More stormy weather is on the way, as Britain is expected to be battered by 90mph winds and near-torrential rains.
The Met Office has warned that the storm coming in from the Atlantic, is expected to hit the UK on Thursday night into Friday, bringing with it a strong risk of severe flooding
John Griffiths, a forecaster for MeteoGroup UK, said: "There will be some very, very strong winds and blustery showers in places tomorrow."
"The winds will start to pick up this afternoon and evening. Tomorrow around 6am, there will be some strong gusts of wind going up to 90mph."
Commuters returning to work after the holidays have been warned to brace themselves for further travel disruption as the Met Office issues yellow and amber weather warnings, indicating "severe or hazardous weather" with potential to "cause danger to life or widespread disruption."
South-eastern trains have said it will probably not be able to run any metro or mainline train services until at least midday on Friday, while Network Rail has warned that routes will need to be checked in the morning for damage by fallen trees.
The worst-affected areas are expected to be northern England and northern parts of Wales.
Families in Wales were warned of persistent heavy rain and gales with up to 20mm-40 mm of rain expected across South Wales.
Natural Resources Wales said: "There is an ongoing risk that leaves and other debris brought down by strong winds could block drains and cause roads to flood."
Thousands of people were forced to flee their homes and spent Christmas without any power after the coastal regions of the country were hit by storms earlier in the week. Some homes will not have their power restored until the weekend.
UK Power Networks said: "Due to the severity of the storm damage in Kent, Surrey and Sussex it may take until the end of the week to restore power supplies to the final pockets of customers in these areas, though work is continuing to reconnect supplies as quickly as possible."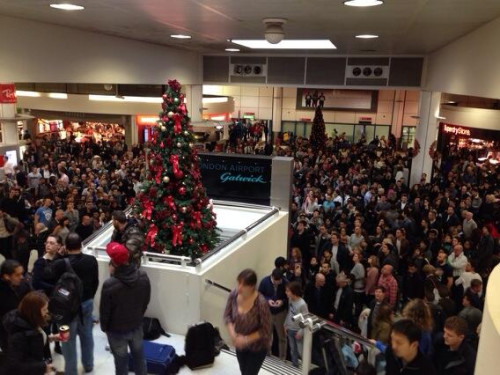 Meanwhile, airport chiefs at Gatwick will be subject to an investigation after the airport after a power outage at the North terminal resulted in flight chaos on Christmas Eve as more than 35 flights were cancelled and passengers had to contend wit four hour delays. The Civil Aviation Authority (CAA) said it expected the West Sussex airport's bosses to examine exactly what caused the chaos before deciding what further action to take.
Gatwick Airport has warned travellers that replacement bus services and diversions could add up to two hours to journey times.
Many rural residents in the south of England have been cut off by rising waters which made country lanes impassable for cars.
After a jogger was swept away after attempting to wade through flood waters David Jordan, Director of Operations at Environment Agency issued a warning saying: "We urge people to remain prepared for possible flooding and avoid driving or walking through flood water."'
The public has been advised to keep an eye on weather updates from the Met Office and travel news.