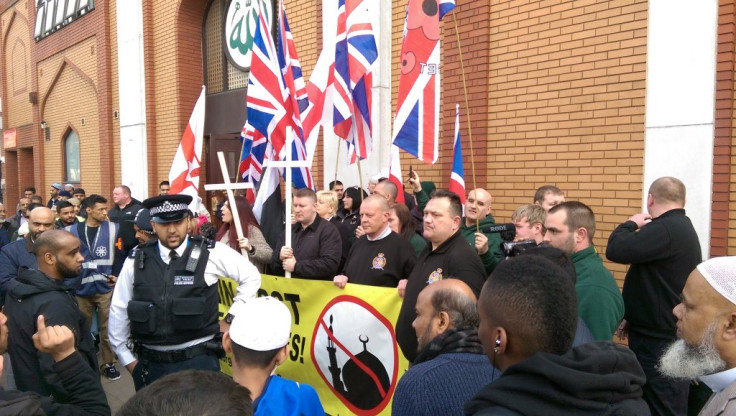 The Met Police have dented the hopes of faith leaders and the Mayor of Tower Hamlets after saying it had "no legal power" to ban future protests by anti-Islam group Britain First. Senior officers met with community leaders from the borough on Tuesday (15 March) after a demonstration outside an East London Mosque turned into a volatile stand-off with local residents and worshippers.
Britain First supporters, carrying Christian crosses and a "No More Mosques" banner, were heard telling members outside the mosque "go back to your own country", while angry opponents responded by hurling abuse and telling them they were "Christian terrorists". The unrest, on 12 March, required a wall of police officers to separate the two groups to prevent violence from spilling out onto the streets.
Mayor John Biggs and the leaders of East London Mosque called for Britain First to be banned from entering the borough, accusing them of holding "racist" and "provocative" protests. He urged senior police commanders to "consider all actions to prevent violence coming to our streets...[including] bans and injunctions".
Britain First, which campaigns to ban Islam but denies being racist, in turn accused their critics of suppressing free speech and their right as a registered political party to campaign and protest. They branded Mayor Biggs an "idiot".
An emergency 'Gold Group' meeting was reportedly held on Tuesday by Tower Hamlets Borough Commander Phil Langworthy to explore with police legal advisers whether future protests could be banned. But a statement issued by the Met Police on Tuesday night suggests the outcome fell short of Mayor Biggs' demands.
It said: "Police do not have the legal power to ban a static protest, and there is no legal requirement to notify police regarding holding a static protest. Police have a duty to safeguard the right to protest, and balance that right against the rights of all those impacted by a protest. Officers are mindful of the responses that can be stirred when those with conflicting views come together in the same area or when protests are held at religious or culturally significant sites.
"Disorder, crime and incitement to hatred will not be tolerated, not just during protest but at any time, and officers will take the most appropriate action if these occur. Tower Hamlets police have a proportionate, but robust, policing plan in place to respond to any future protests."
It comes after attempts by Bedfordshire Police in 2015 to seek a High Court injunction banning Britain First leaders Paul Golding, 34, and Jayda Fransen, 30, from entering Luton failed. The same police force has since managed to ban the pair from the town after arresting them on suspicion of wearing a political uniform in February and using bail conditions to prohibit them from entering Luton.
The tactic has arguably backfired, however, after Golding and Fransen since declared Luton a "major target" because of the ban, coordinating future campaigning in the area via Skype. The group's most recent leafleting in the town, on 27 February, led to another volatile stand-off with anti-fascist protesters.
Mayor Biggs said police and council patrols will be in place this weekend after Britain First told IBTimes UK its supporters would return to East London Mosque. It would be the third time in less than a month the group has held demonstrations outside the mosque, which boasts one of the UK's largest Muslim congregations.
Salman Farsi, spokesman for East London Mosque, praised the "peace-loving community" in Tower Hamlets and the interfaith work in the borough, but warned: "Although the Britain First protests have all been abject failures, there is a danger their continued harassment may lead to violence, causing fear and tension in our community. Tower Hamlets is united against their un-British, un-Christian and unwelcome presence."
Britain First leaders, who provocatively brand Islam a "fascist" religion, accused those calling for a ban of being anti-democratic. They laid blame for the weekend's "carnage" on local residents and worshippers, with Fransen telling IBTimes UK: "The reaction from those who surrounded us was shocking. They were spitting, throwing missiles – I lost count of the number of death threats I received.
"It just goes to show there really is a problem in London with 'no-go zones'. We are well within our rights to hold a protest – people fought and died for that right – and their behaviour was unacceptable. We are definitely going back to East London Mosque. We have lots of activities planned for London in the future."