Community and faith leaders in Luton are handing out leaflets advising residents what to do should they come across "far-right extremists", after the town was declared a "major target zone" for anti-Islam group Britain First. Printed under the banner "United We Stand", tips include phoning the police, avoiding engaging in discussion and recording protesters using mobile phones.
It warns residents that extremist groups are "looking for a reaction", adding: "They are not here to talk, they're here to provoke." The "Do's and Dont's" list was produced by five community groups, including Luton Council of Faiths and Luton Council of Mosques.
It comes as the town braces for yet more marches by controversial group Britain First, a right-wing political party which wants to ban Islam and regularly holds demonstrations in towns with large Muslim communities. In January, its supporters gained headlines when it conducted a "Christian patrol" through Bury Park, Luton, with members carrying religious crosses while handing out anti-Islam literature. It ended in a stand-off between angry residents and Britain First, who were later escorted out of the town by police.
Peter Adams, who works in interfaith relations at St Mary's Church in Luton, told IBTimes UK: "After Britain First came in late January we spoke to many of those who had been drawn into conversation with its members. They were angry they'd allowed themselves to be provoked, so we created this leaflet to advise people on what to do next time. Britain First has got the wrong end of the stick with Luton. We welcome people to come and have conversations with us but we are a place where we expect decent behaviour."
The leaflets – which also advise residents to "keep calm and carry on" and "respond with a smile" – coincide with a joint letter signed by local Christian, Muslim and Jewish faith leaders condemning Britain First and urging it to show "respect for the people of Luton". It complained protests and marches in the town, which has a significant Muslim population, had cost the local community hundreds of thousands of pounds and were making residents upset.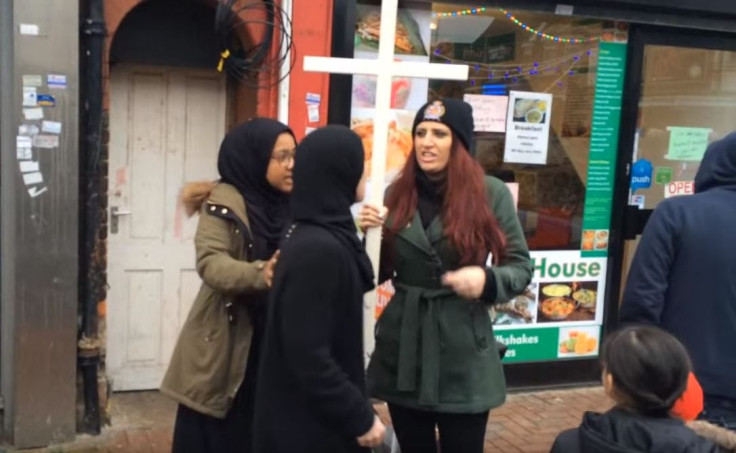 Bedfordshire Police has been under mounting pressure from local community leaders and anti-extremist campaigners in recent months to do more to curb the activities of Britain First. The party has been described by its critics as "far-right", "racist" and a front for "fascists" – all terms denied by Britain First.
Leaders Paul Golding and Jayda Fransen, who have led three protests through Luton already this year, said they were now targeting the town in reaction to bail conditions banning the pair from entering the area. Insisting their campaigning is peaceful, they said Luton would remain a "major target zone" for its activists.
They told IBTimes UK: "Britain First, as a legal political party, will campaign in whatever town it chooses, whenever it chooses and we will not be deterred by the miserable whining of discredited, politically-correct liberal self-publicists who pose as 'Christians'. The remaining British inhabitants of Luton always give Britain First a warm and supportive reception – the only opposition we receive is from the aggressive, intolerant Muslim community.
"As long as the oppressive and disproportionate police bail conditions are still imposed on Britain First leaders Paul Golding and Jayda Fransen, Luton will continue to be a major target zone for Britain First activities, including Bury Park, which we will be returning to shortly."