Britain's Got Talent's Collabro discuss this year's stars, their new album and David Hasselhoff link-up dreams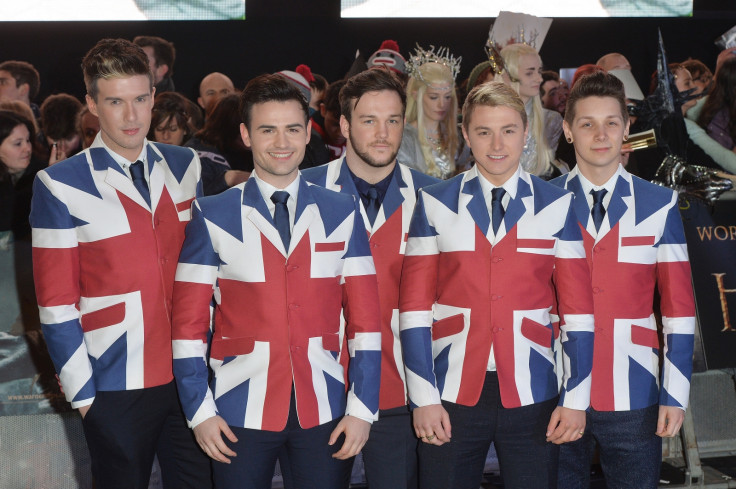 Since they won Britain's Got Talent in 2014, musical theatre boyband Collabro have undoubtedly had a whirlwind of a year.
Not only did they have the obligatory honour of performing for the Queen at the Royal Variety Performance following their victory, they also signed a record deal with Simon Cowell's music label Syco Music.
Under Syco, their debut album Stars reached the number one spot in the UK chart last year and the beginning of 2015 saw them embarking on a sold-out UK tour.
Now with the release of their second album Act Two fast approaching, the band plan to keep at the top of their game by taking their music to more countries, starting with the US.
As the live finals of this year's BGT begin, IBTimes UK met with Collabro to talk about everything from their new album and dream collaborations to who they are loving on the current season of the ITV talent show that kick-started their career.
"We're so excited to see who's going to win [Britain's Got Talent]," says Matt Pagan, one of the five-piece group. "I really like Entity the dance group, and Emma Jones. She's a fellow Cumbrian."
Bandmate Thomas Redgrave has enjoyed watching "the roller-skating brother and sister [Billy and Emily England]" throughout the series – however the pair were voted out in the first instalment of the live finals last night (25 May).
Other Collabro members have more unconventional favourites, and hail this year as one of the best in terms of variety of talent on the show.
Michael Auger likes "Jamie Raven, the magician" the best while Richard Hadfield says he enjoyed "that Vladimir [Georgievsky] bloke, who does the slapstick trampolining."
"He's really great! He does that whole Laurel and Hardy thing," Hadfield explains. "I'm interested to see where the acts go with their act, especially the variety ones. Where will they take it next?"
Setting the bar high
Even though Collabro's fame only took off from the reality competition last year, they confess that it is great to now be seen as part of the musical theatre community around the world and how artists that they have looked up to for many years are starting to approach them about working together.
Auger says: "We'd actually want to collaborate with some other musical theatre stars. We went to see Il Divo at the O2 and they were being supported by Lea Salonga, who's the voice of Mulan and Jasmine in the Disney films. And she actually came up to us at the end and said 'Oh my god, you guys were on Britain's Got Talent. Can I sing on your next album?' and we were like 'No, can we sing on your next album?'
However, it's not just famous faces in the musical theatre industry that Collabro have ambitions to partner with. Inspired by the fact that they recently attended the premiere of his new show Hoff On Record, Jamie Lambert jokes that the band would love to collaborate with David Hasselhoff.
Hadfield chips in: "I don't think we'd mind collaborating with Beyoncé, if we're talking dreams!"
Musical theatre for a younger generation
Their first album Stars was heavily rooted in musical theatre, with only a couple of chart songs among the covers. Act Two sees a much more 50/50 approach when it comes to the balance of showtunes and pop music with tracks such Kodaline's All I Want, Christina Perri's A Thousand Years and even Friends theme tune I'll Be There For You featuring, something that Collabro admits the fans helped in orchestrating.
"We went on Twitter and Facebook and asked the fans directly what they would want to hear on the next album," Pagan tell IBTimes UK. He explains that they used the hundreds of suggestions they received from their listeners to influence the Act Two compilation.
"Musical theatre is all 'you go in, sit down and watch a show'. It's all very suited and booted, but we thought it doesn't have to be that; younger people should be able to enjoy it as well. That's why we went on Britain's Got Talent, deliberately wearing t-shirts and jeans, to show that, it is cool. We wanted to bring it to a younger generation and we feel that we've done that."
They may only just be releasing a second album but the ever-working band have already got ideas for future records when it comes to track listings.
"The one we haven't been able to get right yet is Defying Gravity from Wicked. We really want to do that one on an album – it just hasn't worked so far. It will come though, we will get it," Pagan says enthusiastically when discussing which songs they wanted to feature in their upcoming album. We'll guess they'll have to save that one for an inevitable 'Act Three'.
Act Two will be available to buy on Monday 1 June. However, if you pre-order now, you can instantly download track I Dreamed A Dream (taken from Les Misérables), straight to your chosen music device.
Collabro will be performing at Barclaycard presents British Summer Time at Hyde Park on 28 June.
© Copyright IBTimes 2023. All rights reserved.