UK consumer confidence has risen for the sixth successive quarter and has surpassed the global average for the first time in more than nine years.
According to the latest figures from Nielsen, the Consumer Confidence Index rose from 97 in the first quarter to 99 in the second, with the global level dropping from 97 to 96.
The last time the UK index was higher than the global average was in 2006, when Tony Blair was in his third term as prime minister and the official interest rate was 4.5%.
Britain also overtook Germany – which dropped from 100 to 97 – for the first time in more than five years with UK consumers now the second most confident in Europe, behind Denmark on 112.
Nielsen UK & Ireland managing director Steve Smith said: "Consumers in the UK are feeling ever more confident. Wage inflation is starting to outstrip price inflation for the first time in years, while mortgage rates are at historically low levels and unemployment has generally been falling."
Data from Nielsen also shows that Brits are feeling more positive about their job prospects and personal finances, while numbers of those believing the UK is in a recession are declining.
"This positivity is reflected in the cornerstone of household budgets: grocery spending. The number of UK consumers switching to cheaper grocery brands in order to save money is at its lowest level – 30% – since late 2009. This is an encouraging sign for retailers that consumer purse strings may be starting to loosen," Smith added.
However, consumer confidence and the improving economic outlook could be dampened by two major events on the horizon: a potential rise in interest rates and the looming EU referendum.
Howard Archer, chief economist at IHS Global Insight, said: "Interest rates will highly likely rise modestly during 2016 and fiscal policy will be tighter. There is also the very real possibility that uncertainty ahead of the referendum on UK membership in the European Union may dampen economic activity – particularly business investment – later on in the year. The referendum is expected to occur by the end of 2017 but could well happen in the latter months of 2016."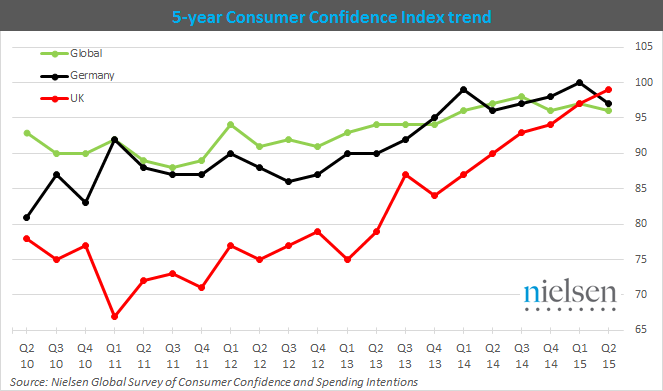 In Europe, Greece had the largest quarterly decrease in confidence among the 60 countries, plummeting 12 index points to 53.
A score above 100 indicates degrees of optimism whereas below 100 suggests degrees of pessimism. The score is derived from Nielsen's Global Survey of Consumer Confidence and Spending Intentions, which measures attitudes each quarter on topics including job prospects and personal finance.