Islamic hate preacher Anjem Choudary has insisted that Alan Henning, the British man held captive by Isis, deserves no sympathy - defying the opinion of most Muslims who want him released.
Home grown radical Choudary said of the kidnapped humanitarian aid worker from Manchester: "In the Koran it is not allowed for you to feel sorry for non-Muslims."
"I don't feel sorry for him. I don't know the real story, I only heard from the British Government and media," added Choudary.
However other Muslims have called on IS - the group formerly known as Isis - to release taxi driver Henning, 47, who was snatched on an aid mission in Syria.
Choudary's made the comments soon after Henning's wife made an emotional appeal for her husband to be freed.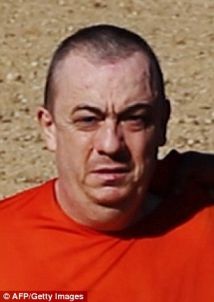 "We need to hear directly from the Islamic State as to why he is being held. The decision lies in the hands of the caliphate," said Choudary.
"Rather than focus on Mr Henning, what they could do, the British Government, is focus on their own actions. Why are they not releasing Muslim people they are holding?
"If they stop the oppression against Muslims, Mr Henning could easily be returned home, The Italians, French and Turks have negotiated and seen their hostages come home.
"I think the British Government can do a lot to release him, they are not negotiating, they don't want to, they don't care.
"You can see the lack of care in the extrajudicial use of torture and rendition. What do you expect from the people they are fighting against?"
Choudary is the founder of a number of fundamentalist groups banned by the British government. He also hailed Lee Rigby's killer Michael Adebolajo, saying he was "proud" of his former student.
For IS to execute Henning would be "totally haram", the Islamic Sharia Council has said. A spokesman for the British organisation said it would be "impermissible" and "prohibited according to sharia for a number of reasons".