Fragments of a miniature "flying saucer" from an incident known as the "British Roswell" have been rediscovered in a cigarette box at London's Science Museum.
The item was originally discovered on Silpho Moor near Scarborough in 1957. The 16-inch metal disc weighing 22 lbs was reportedly inscribed with hieroglyphics similar to those found on the Roswell incident wreckage in 1947; the most infamous of all supposed UFO discoveries.
The unidentified object was found to contain a book made of 17 thin copper sheets, each covered in more hieroglyphics. Local café owner Philip Longbottom claimed the book translated into a 2,000-word message from an alien called Ullo, warning: "You will improve or disappear."
Experts at the Natural History Museum in London quickly decided that the "Silpho UFO" was an elaborate hoax, as there was no evidence that the metal was from elsewhere in the solar system, and the item showed no signs of having passed through Earth's atmosphere at high temperatures.
Air Chief Marshal Lord Dowding – who headed RAF Fighter Command in the Battle of Britain in World War Two – personally examined the item in 1959, concluding that it was indeed an extraterrestrial flying saucer.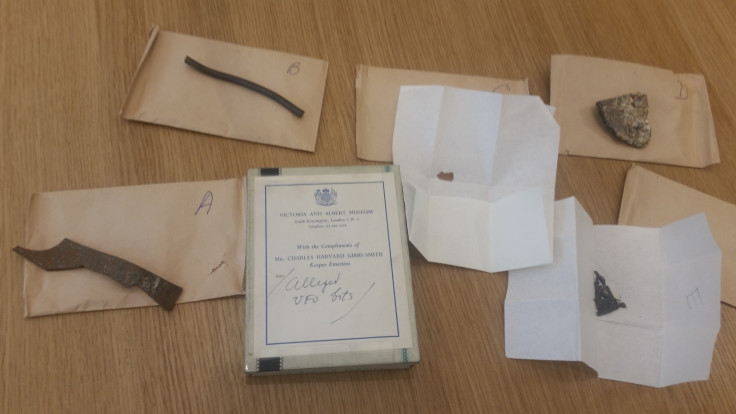 UFO conspiracy theorists believed it had then been intentionally scrapped to avoid difficult questions. However, it is now known that it was sent to the Science Museum in 1963, where it got lost in the museum's archives.
It was rediscovered by Dr David Clarke of Sheffield Hallam University after he gave a talk at the museum on the release of the Ministry of Defence's UFO files.
"One of the museum staff tapped me on the shoulder and asked if I was aware that 'bits of a flying saucer' had been kept in a cigarette tin in the museum group store for decades," he recalled.
Clarke said he was "absolutely amazed" when he saw the wreckage. "It's incredible to hear that pieces of this mystery object have been sitting in a museum archive for more than half a century."
The Silpho UFO was found by businessman Frank Dickenson. Driving with two friends near the moor, he spotted a glowing object in the sky that fell to the ground. Upon investigation, he found the mysterious saucer lying in a patch of braken and went back to tell his friends.
When the three friends returned, it was gone.
After Dickenson placed an advert in the local paper for the item, a man came forward and sold it to Dickenson for £10.
Dickenson, Longbottom and Anthony Parker cut the item open, finding traces of ash, fused glass and the copper book inside.