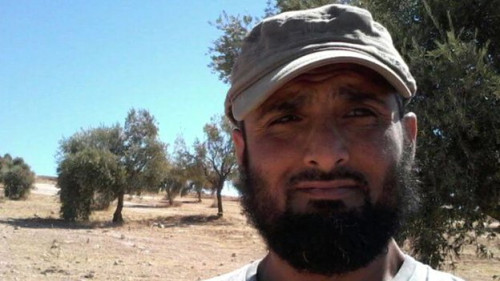 A British suicide bomber who blew himself up in Syria died as he had lived in the UK– on Martyrs Avenue.
Abdul Waheed Majid carried out his attack in a Mad Max-style armoured van in the city of Aleppo last week. The 41-year-old crashed in the vehicle to the walls of a jail and set off a huge explosion, freeing around 300 prisoners.
Now police have raided the home in Britain which Majid abandoned to join the ranks of Islamic extremists. Officers searched a property located in a place named Martyrs Avenue.
In the residental street in Crawley, West Sussex, residents expressed shock that the man they thought went to Syria for charity purposes could end up killing himself in a fireball in a bid to bring down President Bashar Assad.
Reports of Majid's death in a suicide attack will fuel concerns that the Syrian civil war is radicalising some Muslims, who go to fight in the country and pick up a toxic blend of fighting exprience and religious fundamentalism. It is believed Majid was the first British suicide bomber in the Syrian conflict.
A relation said the family was hoping there had been a mistake and that it was not Majid behind the wheel of the suicide van in Aleppo.
Mohammad Jamil, 67, said his nephew: "had a passion for humanitarian work.
"We are still very much holding on to the hope and that this has all been a mistake. He had been in regular contact with his wife and children, sometimes on a daily basis, for the last few months," he told The Mirror.
"We were aware there was a suicide bombing in Syria and we were aware that Mr Majeed had been to Syria for charity purposes.
"The family had been in regular contact with him for several weeks now and he had been sending photographs and pictures.
"He was working with charities in refugee camps and delivering aid that was collected here in Crawley.
"He was happy with this work and feeling really good about it.
"That was the communication we had with him until about seven days ago."
A police spokesman said: "Officers are examining a house in Martyrs Avenue, Langley Green, Crawley, West Sussex, after reports that a UK jihadi, who used the name Abu Suleiman al-Britani, carried out the deadly bombing."