A 15-year-old from Surrey could be on his way to making medical history after potentially inventing a test for Alzheimer's disease.
Sutton Grammar School pupil Krtin Nithiyanandam has developed a new antibody which could detect early signs of the disease – up to 10 years before first symptoms appear or could halt its progression entirely.
His new antibody penetrates the brain and attaches to neurotoxic proteins which are present in the initial stages of Alzheimer's disease. It carries fluorescent nanoparticles which are able to identify the disease "non-invasively".
Nithiyanandam, who lives in Epsom, has now been put forward as one of the finalists for the Google Science Fair Prize and will find out next month whether he has won a scholarship to develop his groundbreaking idea.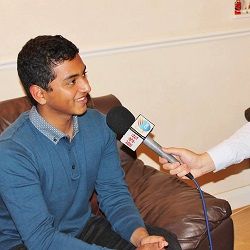 Speaking to the Daily Telegraph, he said: "The main benefits of my test are that it could used to diagnose Alzheimer's disease before symptoms start to show by focusing on pathophysiological changes, some of which can occur a decade before symptoms are prevalent.
"This early diagnosis could help families prepare for the future and ensure that existing drugs are used to better effect.
"Another benefit is that due to the conjugated fluorescent nanoparticles, my diagnostic-probe can be used to image Alzheimer's disease non-invasively."
There are more than 520,000 people in the UK with Alzheimer's disease which kills at least 60,000 each year.

Peter He, 14, of London, Matthew Reid, 14, of Sussex, and Robert Saunt, 15, from Leicestershire have also made it through to the final.
Science minister Jo Johnson said: "I'm delighted to hear that we have four exceptionally talented young scientists from the UK in the Google Science Fair final. From virtual reality to diagnosing Alzheimer's disease, their brilliant ideas aren't just inspirational – they have real potential to impact people's lives one day in the future. My congratulations go out to all of them and I wish them every success as they go on to showcase their projects on the global stage."