The British man who tried to assassinate US President Donald Trump at a presidential rally last June has said voices in his head urged him to do it.
Michael Sandford, 21, tried to grab a police officer's pistol when he was within 20ft of Trump, but was quickly tackled to the ground and detained.
He was arrested and sentenced to jail last December for a year, but returned home to Dorking, in Surrey, after being released last week.
Sandford, who suffers from an array of mental illnesses, has given his first interview, in which he describes what was going through his head at the time of the attempted assassination.
"I was hearing voices telling me to kill Donald Trump," he told the Sun.
"They'd been coming on for a while and getting stronger and more frequent. At one point they were screaming at me.
"My friends had said Trump needed to be stopped. They said he was going to destroy the country – but it was the voices in my head which were telling me to kill him.
"Then one day I saw he was speaking in Las Vegas and I decided to drive there and do something myself."
Sandford had originally travelled to the US to be reunited with a girlfriend he had met in the UK.
However, shortly after he arrived, she was arrested on drugs charges, leaving him to ruminate on politics.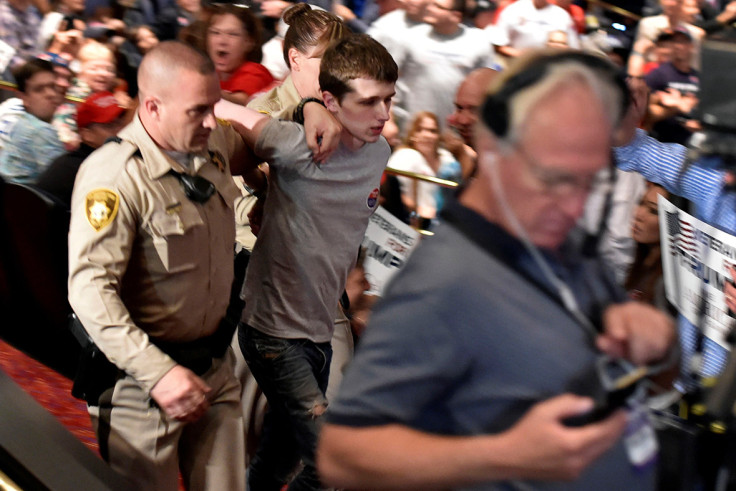 Sanford, who has obsessive compulsive disorder and Asperger's syndrome, spoke of how he carefully rehearsed the assassination attempt.
Days before the rally on 18 June 2016, he travelled to a Las Vegas gun range and practised with a Glock 17 pistol – the same make and model carried by police officers at the event.
"The voices were telling me I needed to do a practice run before trying to kill Trump," he said.
"I was also seeing animals trying to attack me, I was seeing all sorts of things. Deep down I knew there was something wrong but I tried to convince myself it was OK."
He then spoke of how he waited for nine hours to get in good position to see Trump.
"We were searched by the secret service and I took a seat near the front," he added. "I was watching where the police were. When Trump came on stage I went up to one officer to ask if I could get an autograph.
"I was about 20ft from Trump. There was a single row of seats between me and him. I reached down to try and pull the officer's gun but it got stuck in his holster and he pushed me to the floor. Then the secret service arrested me.
"The crazy side of me was disappointed that I'd failed but the rational side was really glad no one had been hurt. I honestly thought they'd shoot me. I thought 'I'm probably going to die today'."
Sandford added: "I'm disgusted by what I did but I'm so glad no one was hurt. I still dislike Trump but I believe political disagreement should be dealt with peacefully."