A British man who tried to steal a policeman's gun in an attempt to kill Donald Trump has been released from a US prison five months into a one-year sentence.
Michael Sandford was imprisoned in the US after being convicted of being an illegal alien in possession of a firearm and disrupting an official function following an incident in Las Vegas.
The 20-year-old had been accused of attempting to grab a policeman's gun at a Donald Trump political rally at the Treasure Island hotel and casino on 18 June
In the wake of the incident, Dorking-born Sandford told police he had plotted to assassinate Trump for a year and had taken shooting lessons, believing that he would die trying to kill the billionaire. He later said his arrest was a "blur".
He faced up to 10 years in prison but the court heard how Sandford has autism and Asperger's and had had a mental health breakdown in the past, and so spared him a heavier sentence.
Psychotic episode
Sandford, who had been living in the US for 18 months, had apparently approached officers asking if he could get Trump's autograph before the arrest.
His lawyers said that he was in the middle of a psychotic episode at the time of the incident. The court heard how he took up shooting lessons in the city the day before the rally.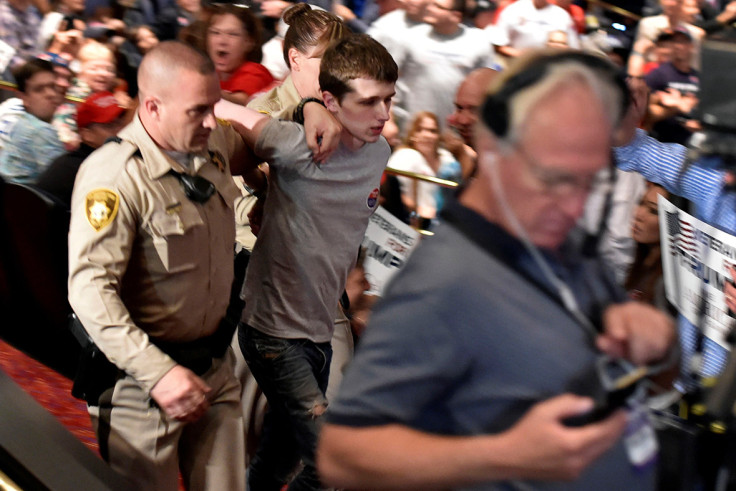 The federal court sentenced Sandford to one year in jail in December but he has been allowed to return to the UK after less than five months, The Independent reports.
He returned to London Heathrow shortly after 11am on Thursday (4 May) and it remains unclear if he will serve the remainder of his sentence in the UK. US officials had not announced that he was being released.
During his trial, Judge James Mahan told Sandford: "You should not be ashamed or embarrassed about it. You need medication.
"You're not a hardened criminal. You're not evil or a sociopath like a lot of people we have."
Defending her son, Lynne Sandford appeared on Good Morning Britain to say that he had no recollection of the event and he is "sorry for everything".
"He's extremely fragile right now but he has said sorry for everything. He said under normal circumstances, he would never do anything like this," she said.
"He can't remember what happened but in hindsight, he's just glad nobody got hurt."