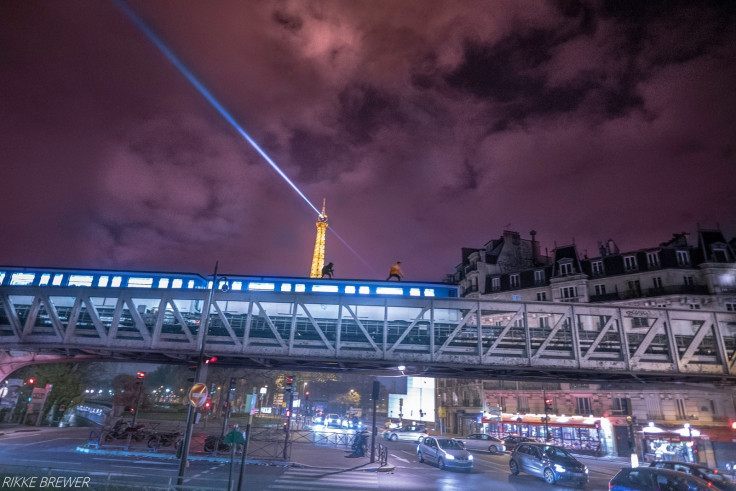 A number of British thrill-seekers may face prosecution in France after one of them posted a video of the five of them on the roof of a Paris Metro carriage as it moved across the Seine river.
A person going by the name of Rikke Brewer shared the footage of himself and others "surfing" the Paris Metro last week.
Brewer used a camera strapped to his body to video himself and at least four other friends performing the stunt, The Independent reports.
"Yo guys, check this out," he said, as the group jumped over a fence to get onto the roof of the metro station in the west of Paris. Brewer then ran along the top of the carriages as they travelled across the River Seine.
Brewer told the MailOnline that it was the first time he had ever train surfed and that it was much easier than he had thought it would be.
Describing himself as an "upcoming urban, crazy explorer and vlogger" he said:"I did it because I guess I liked the thrill about it and the wind in my face.I've been looking it up for a year now and it looked amazing."
Other videos that Brewer has shared on his social media site include him sitting atop the Areva Tower in the La Defense business district, west of Paris. In that video, which was posted on 2 December 2016, Brewer said: "I am more chuffed of how I got in then even climbing it. ALSO, the way security dealt with us was very unusual."
'Dangerous and irresponsible' say French transport authorities
The Paris public transport company, RATP, said in a statement: "After having been informed of this video, the RATP strongly condemns the actions of the men." It has also vowed to take legal action.
It described their behaviour as "extremely dangerous and irresponsible. That is why the RATP has decided to contact judicial authorities."
Not the first time
The Local notes that this is not the first time that people have tried to surf the metro. In 2014, a man calling himself Mister Puma jumped onto a metro train as it emerged from a tunnel just before the Barbes-Rochechouart station.
The website says that in 2013 a man was killed when he tried a similar stunt.
l