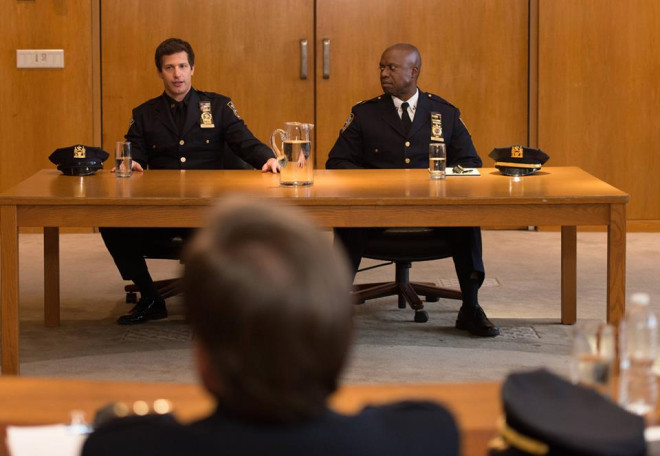 Spoiler Alert: Read at your own risk
Hold yourself strong when you watch the finale of Brooklyn Nine-Nine because the cast of the action comedy drama have warned that the last episode is going to be a shocker.
The best guess can be Jack's suspension and Charles and Vivian's romance hitting rock bottom.
In the final episode 'Chargers and Specs,' Jack is not permitted to investigate the unsolved case of the philanthropic civic leader Lucas Wint.
When Commissioner Podalski shuts down his initiative, Jack decides to crack the case by hook or by crook and seeks Amy and Captain Holt's help in finding more evidence even if that means risking his job.
In the season finale promo Andy Samberg's character introduces himself thus: "My name is Jake Peralta, and I just got fired from the NYPD."
It will be interesting to watch how Jack solves the mystery of Lucas Wint and gets his post back with the NYPD.
"Jake is similar to my dog: He will not drop it," Chelsea Peretti aka Administrator Gina Linetti says in the exclusive promo.
There is going to be trouble in the love paradise of Charles Boyle and Vivian and there are chances of their wedding being called off as Sergeant Terence is heard saying, "something very, very life-changing happens" to Charles.
Later in the finale promo Gina is seen cheering Charles. Andre Braugher teases viewers by hinting, "stay tuned to watch Boyle heal himself through the power of sex."
Charges and Specs, the season finale of Brooklyn Nine-Nine will air on Tuesday, March 25 at 9.30 pm.