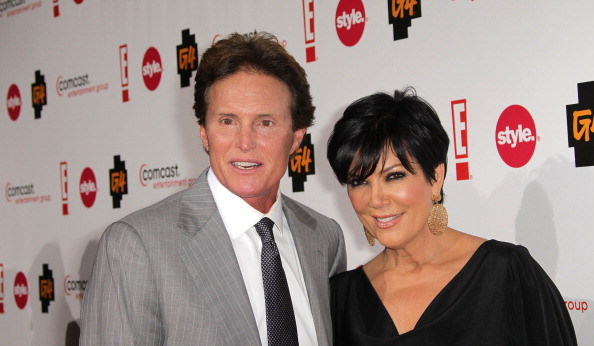 Bruce Jenner's highly-anticipated tell-all interview with Diana Sawyer could be in jeopardy if his ex-wife Kris Jenner has her way.
According to Radar Online, Kim Kardashian's mother is threatening to take legal action over concerns that he could reveal intimate details about their marriage during the television special.
"Kris snapped this weekend and is now threatening him with a defamation suit, demanding that he let her see the Diane Sawyer interview and what is filmed so far of the documentary," the source reportedly said. "Kris told Bruce that if he defames her in any way, or their brand, she is going to sue him for everything that he is worth."
News of Kris's frustration follows claims that she knew nothing about his transgender issues or gender reassignment until after their divorce. An insider told TMZ that although he touched on his "tendency" to dress like a woman, he never acted on his urges and she was kept in the dark about his desire to live as woman.
However, sources close to Jenner claim that although he spent almost 50 years in denial, his former partner was fully aware that he was conflicted about his gender.
Jenner has been the focus of sex-change rumours since 2014 when he reportedly had his Adam's apple surgically reduced, a common procedure by men seeking gender reassignment. Recent reports have suggested that he has undergone surgical procedures to complete the transition, having breast implants.
"Bruce had silicone breast implants put in a few weeks ago. He went with a smaller implant because he didn't want to look ridiculous," a source said of the alleged boob job. "Recovery hasn't been difficult, but Bruce has had to sleep in a recliner to help with the healing. He's not allowed to lift anything, and he has to wear a bra 24/7, but he's expected to resume normal activities in the next six weeks."
People Magazine previously reported that while his stepdaughters Kim, Khloe and Kourtney Kardashian have come to terms with his decision, he is no longer on speaking terms with Kris, who is afraid he will embarrass the famous family.
"The older ones can handle it," a source said, according to New York Daily News. "She said that it could damage (Kendall and Kylie's) careers. She said he was being selfish. At first she told him, 'You better not do it.'"
In the latest teaser for his his candid interview , the 65-year-old former Olympian his joined by his oldest children, Burt, 36, Casey, 34, Brandon, 33, and Brody, 31 and tells news anchor Sawyer that he does not want to "hurt" his loved ones.
"My whole life has been getting me ready for this," before adding of his family: "Those are the only ones I'm concerned with. I can't let myself hurt them."