Olympic athlete Bruce Jenner will be joined by his eldest children, including sons Brandon and Brody Jenner, during his anticipated interview with Diane Sawyer about his alleged sex change.
In a new teaser released by ABC, the 65-year-old's first four children, Burt, 36, Casey, 34, Brandon, 33, and Brody, 31, can be sitting on a sofa while posing for a photo.
During the 38-second-long clip, Kris Jenner's ex-husband tells news anchor Sawyer that he does not want to "hurt" his loved ones over the reported news he is becoming transgender.
Jenner said: "My whole life has been getting me ready for this," before adding of his family: "Those are the only ones I'm concerned with. I can't let myself hurt them."
The reality TV star shares Burt and Casey with his first wife Linda Chrystie Crownover, while Brandon and Brody are children from his second marriage to Linda Thompson.
The voice over describes Jenner as an "Olympic hero, high energy, big-hearted dad, celebrity, living everyday in the harsh glare of the paparazzi," adding: "Now finally Bruce Jenner on family, and the journey, the decisions, the future."
Reportedly referring to his sex change, Jenner later says: "It made me who I am."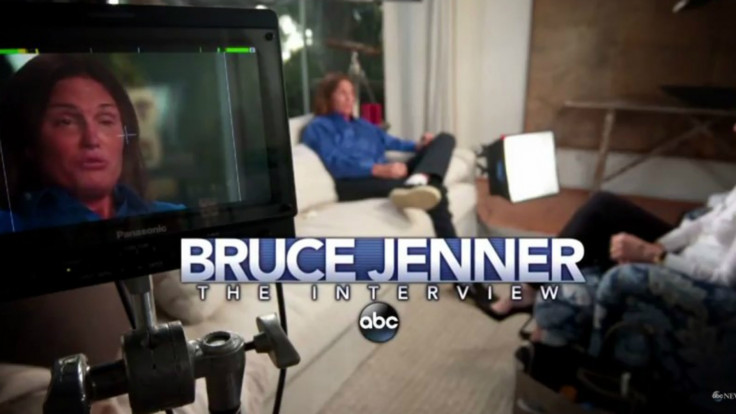 The Keeping Up With The Kardashians star is expected to announce his transition into a woman during the two-hour special.
Recent reports have suggested that Jenner has undergone surgical procedures to complete the transition, including shaving down his Adam's apple and having breast implants.
A source told Radar Online of the alleged boob job: "Bruce had silicone breast implants put in a few weeks ago. He went with a smaller implant because he didn't want to look ridiculous.
"Recovery hasn't been difficult, but Bruce has had to sleep in a recliner to help with the healing. He's not allowed to lift anything, and he has to wear a bra 24/7, but he's expected to resume normal activities in the next six weeks."
It is believed that Jenner's reported sex change is supported by his youngest children, Kendall and Kylie Jenner, and his stepchildren, Kim, Kourtney and Khloe Kardashian.
Bruce Jenner: The Interview will air on ABC's 20/20 on 24 April. Watch the new teaser below: