Bruno Mars warmed up for his upcoming Super Bowl performance in style on Friday night (3 February), wowing crowds in Houston.
Playing in front of a 9,000 strong crowd at Club Nomadic, Mars performed a string of hits, including chart-topping Uptown Funk
Donning the orange jersey of the the city's home baseball team, the Houston Astros, Mars worked the crowd — which included the likes of John Legend and Ceelo Green— to prove why he is making his third appearance during the Super Bowl's epic half-time show on Sunday (4 February).
His bandmates, known as The Hooligans, also played to the home crowd, supporting NBA team, Houston Rockets and the NFL's Texans in the choice of attire.
The show kicked off with a rousing performance of 24K Magic from Mars' most recent album of the same name. Over the course of the set he belted out a number of his best-loved tunes, including Treasure and Locked out of Heaven, adding covers of RnB classics such as Michael Jackson's Rock With You and Pony, by Genuwine.
As the night drew to a close, Mars announced: "We can't leave just yet," joining The Hooligans to huddle in the style of an American football team before launching into their final song of the night, Grammy award-winning Uptown Funk. Echoing the lyrics of the song "I'm too hot – called a police and a fireman," Mars closed the set appropriately, being hosed down by "firemen."
Mars previously performed Uptown Funk at the Super Bowl in 2016 alongside an all-star cast of Coldplay and Beyonce. Lady Gaga will headline this year's show on Sunday at the NRG Stadium in Houston.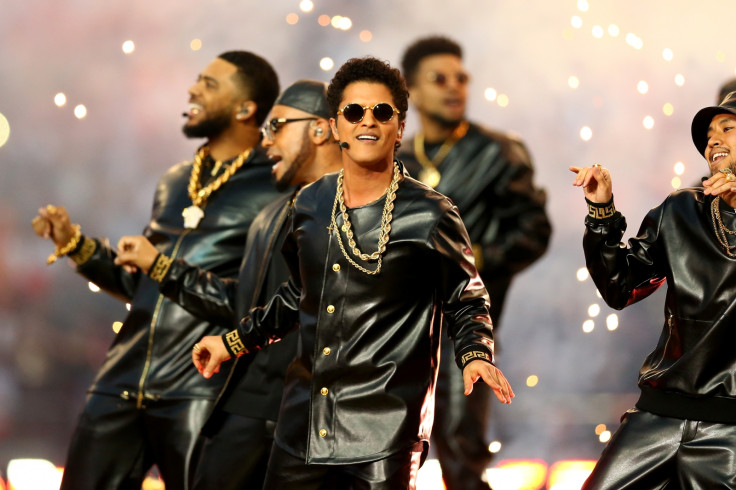 Arguably the biggest event in the US' sporting calendar, the Super Bowl will see The New England Patriots square up to The Atlanta Falcons. It is the Patriot's ninth Super Bowl final, but only the second for the Falcons in their 51-year history.