Iconic quarterback Tom Brady will aim to secure a record fifth NFL championship on Sunday night (5 February) as he leads the New England Patriots in an eagerly-anticipated showdown against the red-hot Atlanta Falcons at NRG Stadium in Houston, Texas.
One of the highlights of the sporting calendar watched by a 110 million-strong domestic television audience and broadcast in more than 170 countries worldwide, the relatively understated build-up to Super Bowl 51 has been overshadowed by the controversies associated with President Donald Trump's eventful first fortnight in the White House.
While the Patriots and Brady are veterans on such a grand stage, the Falcons, now boasting the NFL's most devastating offense spearheaded by Matt Ryan, star wide receiver Julio Jones and a lethal running back tandem comprised of Devonta Freeman and Tevin Coleman, lost to John Elway's Denver Broncos on their only previous trip to the Super Bowl in 1999.
Can they go one better this time and stop Brady from making history? IBTimes UK pools together a range of different predictions ahead of the big game...
Who will win Super Bowl 51?
Analytics
Konstantinos Pelechrinis,an associate professor at the University of Pittsburgh's School of Information Sciences, recently conducted a study analysing 1,869 regular and post-season games from a six-year period between 2009-15. Identifying key in-game factors that directly correlate with winning probability and creating a Football Prediction Matchup engine to compare performances in the 2016 regular season, he also ran 10,000 simulations of the game before determining that the Falcons have a 54% chance of emerging victorious.
"I believe both die-hard football fans and casual viewers will be in for an exciting game this Sunday," Pelechrinis declared. "The Patriots and the Falcons are two dynamic, high-scoring football teams that perform extraordinarily well in the key areas of the game that most impact winning. However, we are confident that it will be the Atlanta Falcons walking away with that franchise's first Vince Lombardi Trophy."
Current players
Manchester-born Oakland Raiders offensive tackle Menelik Watson: "I've got to go with Falcons, as my boy [Devonta] Freeman is out there playing and running hard. Although, it's hard to go against the Patriots as Tom Brady is playing so well. My prediction for the Super Bowl, I would go 31-24 to Falcons."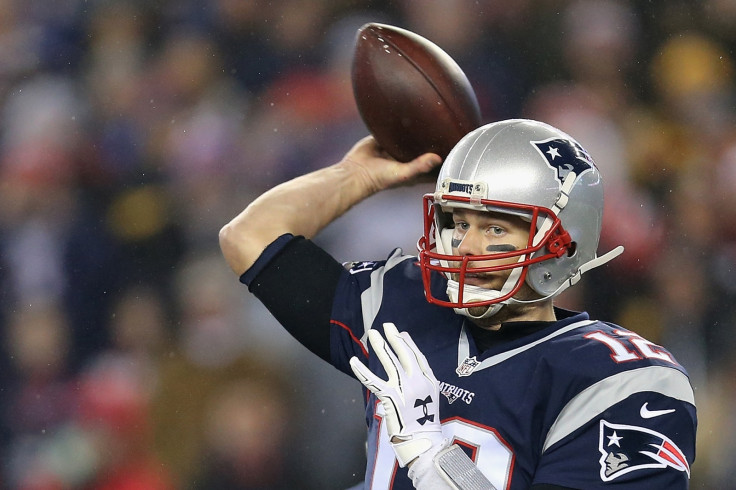 Jacksonville Jaguars defensive tackle Michael Bennett: "It is hard to bet against the Patriots – they have a really good system in place, the Falcons are running hot right now, but it is dangerous to bet against the Patriots."
Animal psychics
Animal psychics have become all the rage in recent years, particularly when it comes to major sporting events. An otherwise unassuming octopus named Paul became a household name seven years ago when he predicted the outcome of eight matches at the 2010 World Cup by choosing a mussel from one of two boxes featuring the flags of each country at the Oberhausen Sea Life Centre in Germany.
This year the focus seems to have fallen upon a 10-year-old Pittsburgh-based Australian cattle rescue dog named Yowie, who, by choosing to eat from a bowl next to a flag from either team, apparently predicted every playoff result without error. Making her Super Bowl pick live on talk show Today on Friday, the Youtube star, accompanied by owner Jeffrey Smee, opted for the Falcons in both the dress rehearsal and the real thing.
Madden NFL 17 simulation
The popular, long-running EA Sports video game franchise has successfully predicted nine of the last 13 winners and will look to get back on track this year after incorrectly predicting that Cam Newton would lead the Carolina Panthers to victory over the Broncos at Super Bowl 50 with the aid of a late rushing touchdown.
In their latest simulation, the Patriots trailed by four points with less than four minutes to play in the fourth quarter. In incredibly tense fashion, the Falcons managed to force a fourth-and-20 situation with only 20 seconds remaining but were unable to prevent Brady from finding Julian Edelman for the winning score.
New England natives will hope this is as accurate as their last Super Bowl appearance in 2015, when Madden's prediction of a 28-24 win over the Seattle Seahawks bore fruit. Spooky.
Bookmakers
According to research conducted by bettingexpert.com, the Falcons stand on the verge of their maiden Super Bowl success...
"There's a lot of talk about the Atlanta offense this year, so we've dredged the archives of Superbowl data to find out whether they, or even the New England Patriots, have the capacity to tally points like previous champions," said Henrik Lykkesteen, chief commercial officer for Better Collective.
"If history is anything to go by, the Falcons could have this Superbowl wrapped up. They, on average, outscore New England in every quarter and, importantly, notch points when history shows they are most needed."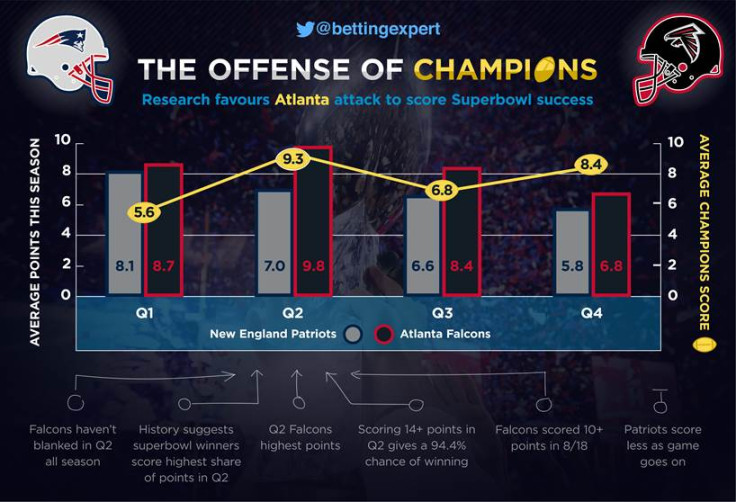 IBTimes UK prediction: Patriots 31-27 Falcons
While we would love to see Kyle Shanahan's high-powered Falcons offense finish the job in Houston, it feels foolish to pick against a remarkably adaptable Patriots outfit led by an all-time great in Brady who, at 39, is showing no signs of any imminent decline. If anyone is capable of piecing together a gameplan to limit the effectiveness of Ryan and his array of attacking weapons, it's Bill Belichick. The Vince Lombardi Trophy is heading back to Foxborough, whether we like it or not.
Alex Iwobi, Harry Winks, Ndamukong Suh and Menelik Watson were attending the NFL Super Bowl LI party ahead of this Sunday's Super Bowl, which will see the New England Patriots face the Atlanta Falcons in Houston this Sunday. You can catch all of the action from 11.20pm on BBC One or Sky Sports 1 from 10.00pm, with kick-off at 11.30pm.