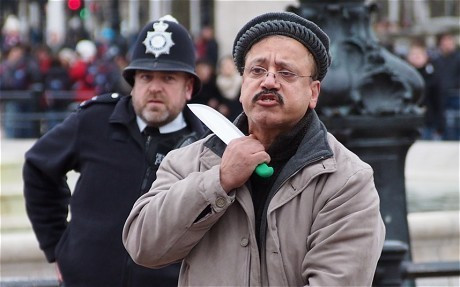 A man who was tasered by police as he wielded two knives outside Buckingham Palace is due to appear in court.
Talhat Rehman, 54, of Harrow, is due to appear at Westminister Magistrates' Court charged with two counts of possessing a bladed weapon in public and one count of affray.
Rehman was filmed holding one knife to his throat and another to his chest in front of a crowd of people during the Changing of the Guard ceremony outside Buckingham Palace on 3 February.
Police eventually confronted Rehman and discharged a taser before arresting him.
The Queen and Prince Philip were not at Buckingham Palace at the time.
Eyewitnesses have been giving their reactions to the incident. Grant Shepherd posted a video of the incident on YouTube after tweeting: "Crazy man with a knife to his throat just stopped the Changing of the Guard at Buckingham Palace."
Josh Greenberg added: "He was shouting but it was quite unintelligible. Police were clearly telling him to drop the knife and instructing the public to get back."
Kevin Burrows, 33, a kitchen porter from Kingston, Surrey, said: "The crowd had been pushed back behind a barrier but he came at the police. He was threatening them with knives.
"The police saw him and acted very quickly. They surrounded him within seconds. I saw the shot fired. It took a couple of seconds for him to hit the ground.
"I've never seen anything like it before. I didn't expect that, I didn't expect it whatsoever."
A spokesman for the Metropolitan Police said: "A man was seen outside the centre gate in possession of two knives. He was not making threats to members of the public but he was challenged by police."
According to the latest statistics from Scotland Yard, the Metropolitan Police used a taser 224 times between 1 October 2010 and 31 March 2011.
Tasered Buckingham Palace Knifeman Talhat Rehman 'Wanted Queen to Help £170,000 Debt'