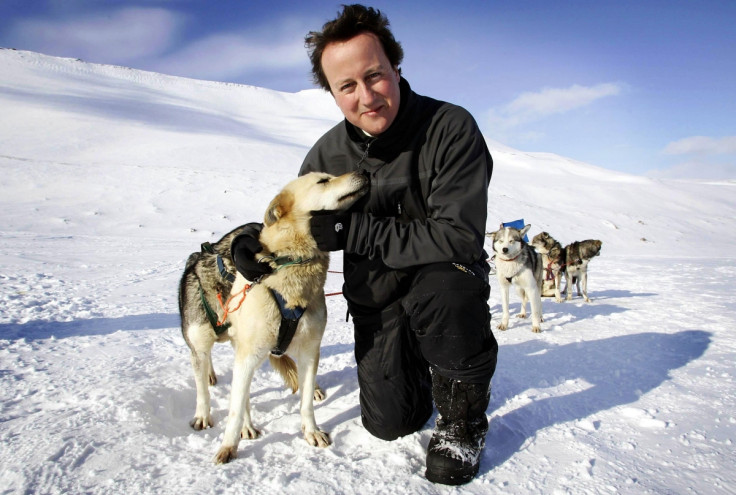 Jeremy Corbyn caught David Cameron off guard by grilling the prime minister over his green credentials ahead of the 2016 Budget on 16 March. The Labour leader joked no husky was safe from Cameron's hugs, but warned tens of thousands of people were being killed in the UK because of air pollution.
The quip at Prime Minister's Questions (PMQs) was a reference to a 2006 photo opportunity from the Conservative leader in Norway. Cameron, among other things, posed alongside a dog sled in a bid to make his image look more environmentally friendly.
Mockery aside, Corbyn cited a 2016 study from the Royal College of Physicians, which warned air pollution was costing the British economy more than £20bn ($28bn) a year. The research also revealed that outdoor air pollution was linked to 40,000 deaths per year.
Cameron admitted he was not familiar with the figures, but he defended the government's record on the environment.
"He once boasted that he led the greenest government ever, no husky was safe from his cuddles. But could he explain why the Energy and Climate Change Select Committee has produced a damning report when it comes to green energy, saying that major investors describe his policies as 'risky' as a result of cuts and changes?" Corbyn hit back. "Why is this government so failing the renewable energy sector, clean air, consumers, investors and those that work in that industry?"
Cameron claimed any "proper look at the figures" showed the government has a "remarkable" record in green energy. "Let me take the Climate Action Network, they said that Britain is the second best country in the world for tackling climate change behind Norway," the prime minister added.
The PMQs clash came minutes before the Chancellor George Osborne was due to deliver is 2016 Budget speech to the House of Commons. Follow all of the economic action at IBTimes UK's live blog.