A terrified bull killed itself in a panic after Spanish festival organisers tied burning torched to its horns during at a celebration near Valencia, prompting outrage from animal rights campaigners
The half-tonne creature found itself tied to a post in front of an enthusiastic crowd of several hundred townspeople during the 'Bulls in the Street' festival in Foios , a scaled-down version of Pamplona's famous Running of the Bulls.
The animal freaked out when flaming stakes were tied to its horns and it was released from the post, which it then inadvertently charged into, killing itself instantly.
The crowd's excitement turned to shock as the bull killed itself in front of their eyes, suggesting that they had not expected him to die this way.
The bull had gored a man in the leg earlier yesterday during an organised street run by local media, according to local media.
It is not known if this is the reason he was chosen for the evening's festivities.
The footage was obtained by the group Bulls Defenders United and uploaded to Facebook on Sunday (23 July). It has since been viewed more than 150,000 times.
"How many lives will still be taken in the name of traditions that are nothing but barbarity?" the group said in a statement accompanying the video.
Supporters of the Bulls in the Street festival argue that the animals rarely suffer any harm and the tradition stretches back several hundred years.
However, Facebook users responded with a mix of anger and concern about animal rights inside the EU nation.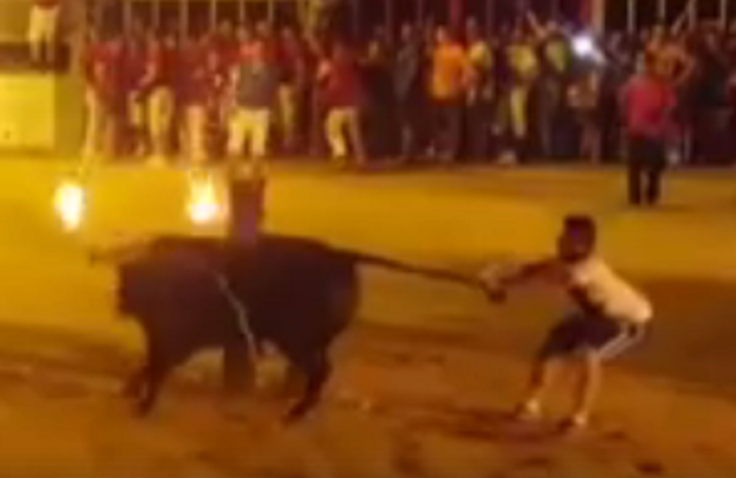 "I worked for a Spanish state-owned broadcast station, and I had to film several 'corridas'. Seen only feet away, they're not disgusting – they are absolutely horrific," wrote Jorge Gea Gilabert.
"You can hear blood bubbling from open lung wounds. I didn't like bullfighting, but since then I HATE It. Not all Spaniards like bullfighting," he added.
Vicky Mena was more forthright, saying: "Spain needs a PURGE DAY to eliminate these subhuman parasites and their families. SPAIN IS DEPLORABLE!"