An Iraqi man is back in HMP Birmingham after he was convicted of slashing a fellow inmate's face with a razor blade melted onto a toothbrush. Shallan Mohammed was detained at the Winson Green facility for an immigration offence when he lashed out on another prisoner in November 2014.
He launched into the attack when the two crossed paths on a balcony on the prison's M Wing, in a brutal assault that left the victim requiring 24 stitches across his cheek. Mohammed thought he got away with the offence after he was released from the prison one month later.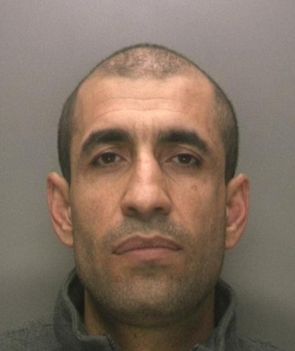 He was re-arrested in Middlesbrough in January 2016 after prison staff found a blade embedded into a toothbrush hidden behind a plug socket in his former cell.
Forensic examination of the homemade weapon failed to return any DNA link to the 32-year-old victim but Mohammed was picked out during an ID procedure while officers were able to disprove alibi claims that he was playing table tennis at the time of the attack. He was jailed for eight years after being found guilty of the wounding.
His punishment comes after the House of Commons Justice Committee said in May that prison officers had lost control of inmates and riot squads were required to quell the mayhem.
There were more than 20,000 prisoner-on-prisoner assaults last year while attacks on staff sky-rocketed to 5,000
Recent cases have seen inmates handed extra jail time for attacking and spitting at staff, while two men were both jailed for seven-and-a-half years for a vicious assault that left a detainee with a broken jaw.
DC Jim Farrell said: "Violence is unacceptable at all levels whether on staff or inmates...we're working with G4S to keep weapons out of prison and keep prisoners and staff safe. Anyone committing violent offences in HMP Birmingham can expect to be prosecuted and potentially end up spending more time behind bars."