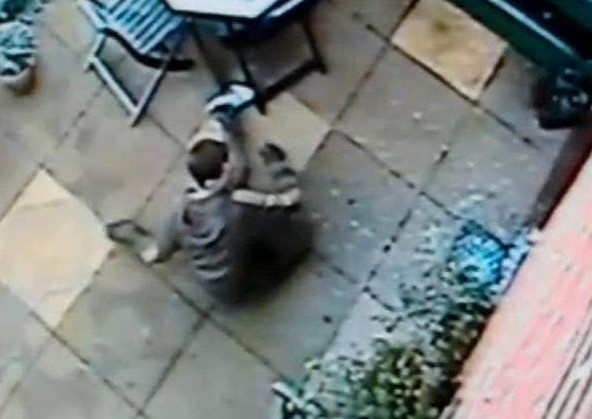 Police in the West Midlands are searching for a suspected dog-killing burglar and have released CCTV footage of the perpetrator in a bid to find him.
The video shows a left-handed man spending 10 minutes trying to break into a house in Walsall by throwing stones and pebbles at a patio door until it smashes.
Police believe this break-in may be connected to another attempted robbery in Short Heath, where the family's dog was taken from its kennel and then drowned in a nearby canal.
The thief eventually got into the Walsall house but was forced to flee the property empty-handed after triggering the alarm.
Detective constable Kevin Cockayne said: "He's seen to easily peer over garden fencing which is six feet high and throw all the stones left-handed.
"There have been a number of crude break-in attempts in this part of Walsall lately, including one where a Staffordshire terrier was stolen and later found drowned in a canal.
"An unsuccessful attempt was made to force entry to the property, it's thought the offender may have taken the dog for fear its barks would have alerted neighbours or passers-by.
"The family are naturally heartbroken that their family pet can be so cruelly and needlessly killed. If anyone recognises the man in the CCTV footage, or has suspicions about anyone they know, I'd urge them to contact me as soon as possible."
The man is described as skinny, white, with short dark-brown or black hair. The CCTV footage is from 12 December - the day after four-year-old Staffordshire Terrier Holly was taken.
Police are also investigating two burglaries at the same address on 14 and 15 December. The thief smashed the rear patio door and stole jewellery. They returned the following day to take electrical items.
One of the items taken was a man's gold watch with the engraving 'Richard Scotford 25yrs service Mitchells & Butlers'.