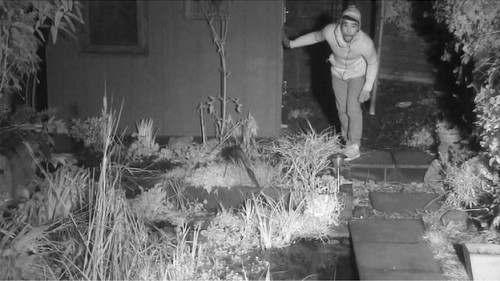 A camera set up by a BBC presenter to film foxes unexpectedly captured a suspected burglar instead.
Simon King's camera caught a man climbing over a fence and scurrying across a garden in Herne Hill, south London, earlier this month.
All the footage filmed on the device is streamed live on to King's website, meaning the suspected burglar was far from low profile.
King told his followers on Twitter that police were "delighted" with the high resolution black and white footage of the incident, which happened on January 12.
He appealed for anyone who knows the man in the image to contact police.
The camera had been set up as part of filming for 'Fox Family' in the garden of one of King's neighbours.
King, who is best known for his work on Big Cat Diary, a programme about cheetahs in Africa, told the BBC: "I understand that a neighbour of our urban fox family residence was burgled and our cameras captured the possible suspect.
"Anyone can view our network of webcams live through our website and they will often see animals doing the strangest of things - but this is taking it one stage further.
"I hope the police are able to make use of the images and that this matter is resolved with as little disruption as possible for all concerned."
A Scotland Yard spokesman said nothing was taken from the property during the break-in.
He said: "Anyone who has any information should contact PC Marie Hamilton at Southwark's Serious Acquisitive Crime Unit on 020 7232 7060, or Crimestoppers anonymously on 0800 555111."