Burkina Faso attack: Hotel Ybi now under attack after Al-Qaeda terrorists leave 20 dead in Splendid Hotel
Muslim extremists have attacked a second hotel in Burkina Faso's capital, Ouagadougou, after soldiers and police regained control of the Splendid Hotel on Saturday, 16 January. At least three militants from al-Qaeda in the Islamic Maghreb (AQIM) were slain after murdering at least 20 civilians at the Splendid, which is popular with UN staff and Westerners.
"The attacks on the Splendid Hotel and the Cappuccino are over. But an assault is ongoing at the Hotel Ybi," Burkina Faso Interior Minister Simon Compaore told AFP. The Ybi is located next to the Cappuccino Cafe, where 10 bodies were found following the attack on the Splendid.
The attack on the 147-room Splendid hotel involved terrorists setting off explosives and attacking a the nearby Cappuccino café. Early indications suggest that at least 33 people were injured. At least 20 people were killed.
Burkina Faso and French forces, dispatched from neighbouring Mali, freed a total of 126 hostages. AQIM – a group of Islamic extremists – claimed responsibility for the attack at around 7.30pm (GMT) on Friday, 15 January.
Remi Dandjinou, the Burkinabe communications minister, told the BBC there were either six or seven gunmen who had been staying at the hotel. Police are searching other hotels in Ouagadougou for more extremists.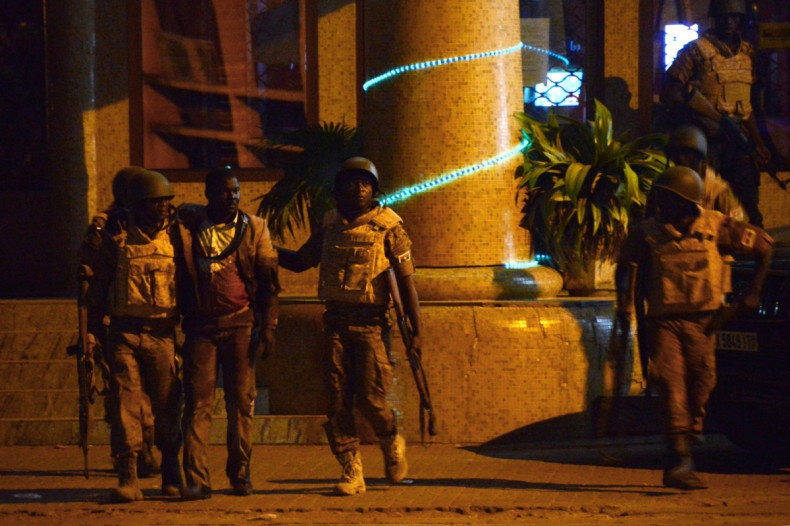 The brutal siege echoed a similar Islamist attack on the Radisson Blu hotel in neighbouring Mali in November. That attack left 20 people dead.
The SITE Intelligence Group said AQIM posted a online message in Arabic using the Telegram text messaging service. It said its members "broke into a restaurant of one of the biggest hotels in the capital of Burkina Faso, and are now entrenched and the clashes are continuing with the enemies of the religion [Islam]" and had witnessed "the fall of many dead Crusaders [Westerners]".
AQIM has reportedly recently merged with the al-Murabitoon group who targeted the Raddison Blu hotel in Mali. The group is based in the Sahara desert in northern Mali and contains fighters loyal to one-eyed Algerian militant Mokhtar Belmokhtar.
Burkina Faso is a largely Muslim country, and has seen little violence linked to Muslim extremists. But in April, a Romanian national was kidnapped near the country's border with Mali.
The country has been in a state of turmoil since its 27-year president Blaise Compaore was ousted in a popular uprising in 2014. The transitional government only returned to power in November.