Powerful photos show the aftermath of the terrorist attacks in Burkina Faso. Burned pizzas and melted plastic water bottles on tables at the Cappuccino cafe-restaurant terrace are signs of an ordinary evening brutally interrupted. Amid the shattered glass, bullet holes and charred ruins, a bottle of chilli oil stands on one table. A half-finished bottle of red wine lies beneath another.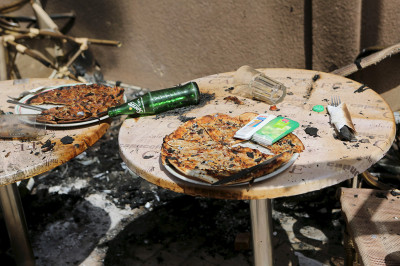 People inside the one-room restaurant and on the terrace had no chance; bodies were charred beyond recognition. Only one person was pulled out alive – a woman from Burkina Faso, who was too traumatised to speak. At least 10 of the 29 victims of the Ouagadougou attacks lost their lives at the cafe, including the Ukrainian wife and son of the owner. An American missionary who ran an orphanage in Burkina Faso was killed while meeting a local pastor at the venue.
The cafe had long been a popular hangout in Ouagadougou, with free WiFi and a Western-friendly menu. "The intention was to hurt foreigners. It is a place where you find a lot of foreigners. That explains why they attacked it," Burkina Faso's security minister, Simon Compaore, said.
Clement Djiguende, a barman at the venue, said that he hid in the toilets with about 20 other people as he heard the sound of gunfire. Some people tried to climb through the restaurant's broken windows. Others managed to get to the roof where they waited for the carnage to stop. On the cafe's large outdoor terrace "wounded people were crying out in pain", the bartender recalled. "The jihadists then started killing the wounded."
The attackers sprayed the restaurant with bullets, set fire to cars and motorbikes, then entered the Splendid Hotel opposite. From there, they fired on people in the street, including anyone trying to emerge from the restaurant. A witness saw a man shot as he tried to retrieve his car parked near the hotel. He bled to death clutching his keys.
Anti-terrorist forces entered the hotel and, going room-by-room, freed dozens of people, a process that took most of the night. At least one door was booby-trapped with a grenade, and they did not know where the militants might be hiding. Many guests refused to open their doors, fearing a trick. In the end it turned out that all the attackers had withdrawn.
Next, security forces and the fire brigade went to Cappuccino, which had been torched. In the nearby Yibi Hotel, they found bullet casings that showed the militants had been there, but no sign of the men. They were finally located at the Bush Taxi restaurant when hidden security officers shot at them and they returned fire.
Officials have not yet been able to determine whether al-Qaeda in the Islamic Maghreb (AQIM) and al-Mourabitoun, groups that claimed responsibility for both attacks, used a local jihadist cell or sent fighters from northern Mali.