This huge temporary city in the middle of the desert is home to around 65,000 people for one week during the annual Burning Man festival. The massive semi-circular campsite stretches for miles across the Black Rock desert in Nevada.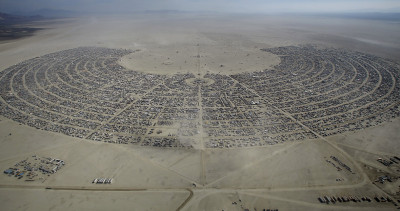 Black Rock City, as the campsite is known, has a cinema, temples and even its own airport – but no shops. Money is outlawed at the festival, so revellers must bring everything they will need for the week-long rave, described as "where Mad Max meets Woodstock".
The festival's site, on a dried-up lake bed, is dotted with giant sculptures that are burned each night of the festival. The event will climax on the final night with the burning of the huge wooden effigy that gives the event its name.
Reuters photographer Jim Urquhart is on hand to capture this year's festival, which has the theme Carnival of Mirrors. According to the festival's website, there is a maze at the centre of the carnival lined with masks and mirrors. "Here people will confront a shuffled deck of selves: the me they want to be (but aren't), the me they repudiate (but are), the me they can't imagine (but might be)."