The disarmament of civilians is already under way in Burundi, the government has confirmed, amid calls from the international community for an immediate demilitarisation.
A commission for disarmament set up after the civil war has continued to recover arms during the recent escalation of violence, presidential adviser Willy Nyamitwe confirmed, saying that Burundi's government is open to help from foreign agencies.
"Burundi does not refuse international help, but it already has expertise in terms of disarmament," he told IBTimes UK over the phone on Wednesday 24 June.
This month, the African Union echoed the East African Community's request of an urgent disarmament of all youth groups affiliated to political parties – including Burundi's ruling National Council for the Defense of Democracy (CNDD-FDD) party's youth wing, the Imbonerakure – in an attempt to create conditions conducive to the return of refugees.
The government had previously rejected proposals from heads of state of the Peace and Security Council (PSC), such as the deployment of military experts "to verify the process of disarming the militias and other armed groups", it was reported. The only condition to their appearance was that the government was informed of the "country of origin of the experts, their number and their precise mandate".
This comes amid increasing rumours civilians are now seeking "to get weapons so that they can face police with similar fire power".
While IBTimes UK could not confirm that civilians had managed to get their hands on weapons, sources believe the arms could come from the Democratic Republic of Congo (DRC).
Burundi has disarmament experts
"Burundi already has experts in disarmament because we had a national commission of disarmament, which started working in 2009 and has already recovered more than 100,000 arms. It has already been able to do a remarkable job. Recovering 100,000 arms is not a negligible number," Nyamitwe said.
In May 2005, Burundian President Domitien Ndayizeye signed a decree creating a new programme to disarm civilians. At the time, Burundi was said to have some 250,000 small arms in circulation, following a 12-year civil war that ended in 2005 after killing more than 300,000.
The decree stated that a nine-member Burundian National Commission for Civilian Disarmament and Prevention of Weapons Proliferation (CDCPA) was to be set up to disarm "all persons residing in Burundi other than police and defence forces in possession of weapons and ammunition".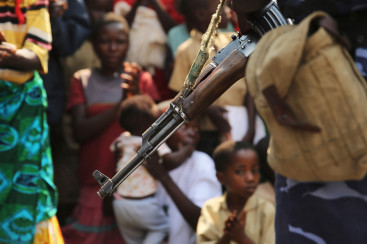 The commission, supported by the United Nations Development Programme (UNDP), Switzerland, France, the US, the Peacebuilding Fund and the UNDP Bureau for Crisis Prevention and Recovery (BCPR), was also charged with disarming thousands of young Burundians known as the "guardians de la paix" (the Guardians of Peace).
It is reported they had previously been armed with guns by the government to support the security forces to protect civilians.
By the autumn of 2009, civilians across Burundi started handing in thousands of guns, grenades and rounds of ammunition during a 10-day voluntary disarmament campaign. In return, the state handed out goods such as construction materials, furniture, bicycles, farming tools, mobile phones and soap.
"Nearly 80% of weapons in circulation" had been collected at the time, according to the commission's head, General Zénon Ndabaneze -–a pro-13 May coup general now detained by the Burundian authorities.
Working with international community
"Burundi agrees to co-operate with international experts, who would want to come and get a sense of the steps already made in disarming civilians on the ground. This work is still under way," Nyamitwe said.
If the international experts were to come to Burundi, Nyamitwe said, they would work in coo-peration with Burundi "as a team"."
"Burundi already receives financial help from foreign countries, but we cannot refuse logistical support from the international community, so any contribution in this direction is more than welcome."
The adviser confirmed he did not know if a date had been set for the arrival of a team of foreign observers, as the chair of the African Union Commission, Nkosazana Dlamini Zuma, who is in charge of organising, has yet to make an announcement.
Burundi up close: Check out our Flipboard magazine