The plotters of the Burundi army coup knew they couldn't make their move until Burundian President Pierre Nkurunziza's plane had taken off.
When the fateful moment came, as Nkurunziza departed for a peace summit held by East Africa Community leaders in Tanzania, their plan stared to come together.
A leading opposition figure received a phone call on Wednesday (13 May) morning from the Minister of Defense, General Pontien Gaciyubwenge, who told him he was launching the coup – which was later announced in a radio broadcast.
"The minister told me: 'I think things are going to go ahead easily', before adding the president would not return. That's what he meant," Pierre-Claver Mbonimpa told IBTimes UK from his hiding spot in Bujumbura. "That was this morning."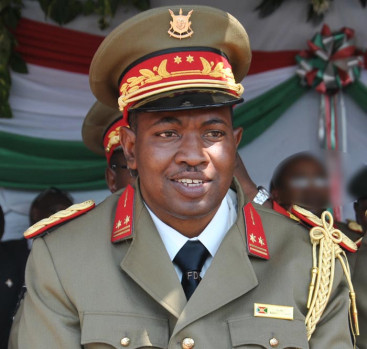 As thousands of protesters gathered in the capital Bujumbura's city centre, senior army generals led by Godefroid Niyombareh (pictured) announced in a radio statement they were deposing the embattled president.
The presidential office almost immediately dismissed the claims with a tweet saying the attempted coup had "failed", but President Nkurunziza, who landed safely in Tanzania to meet leaders of the East Africa Community – made up of Kenya, Rwanda, Tanzania, Uganda and Burundi – has since remained silent.
"The situation is under control, there is no coup in Burundi," the message read.
From Dar es Salaam, the presidential office sent another message, saying the president and his high level delegation in the Tanzanian city are discussing "how to handle the attempted coup in Burundi".
'Military will transition power to civilians'
While Mbonimpa confirmed no immediate plans had been made regarding the set up of a transitional government, he revealed the man behind the coup, General Niyombareh – who was fired by Nkurunziza as intelligence chief in February – stated he had no intention for the army to retain control of the country.
"The military have told me they will not monopolise the power, but rather transition it to the civilians. Now, the transitional government will start preparing the elections because they have asked both the civil society, and political and religious leaders to let them guide them so that they can all get together to prepare peaceful elections."
"The president is no longer. His people have deposed him."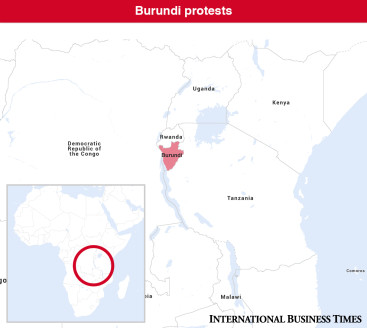 Early warnings of a coup
A week ago, IBTimes UK revealed that the army was planning to overthrow President Nkurunziza.
"[The] Military support the demonstrators because they believe the president should respect the Arusha Accords and the Constitution," Mbonimpa told IBTimes UK at the time.
"I know the army will revolt. The army can rise any time now, and it will only take them to see that there is a huge part of the population who wants to see the president overthrown [to do it]."