Burundi: Information sheets asking for teachers' 'ethnic group' worries civilians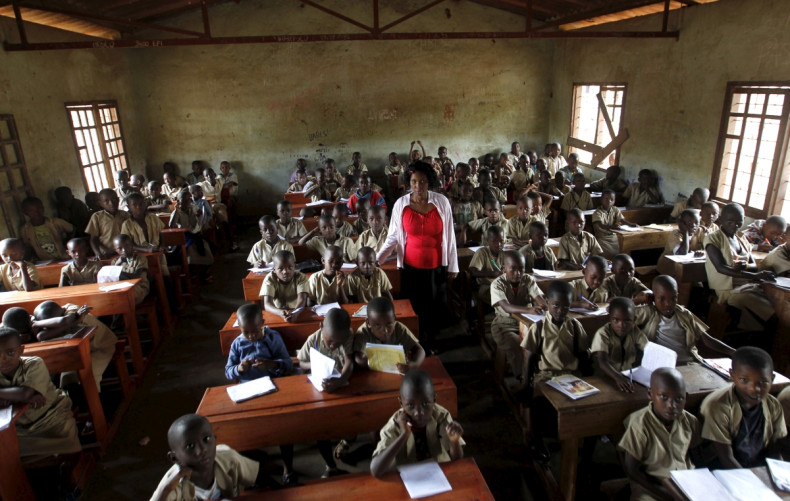 Teachers in Burundi have voiced their concerns after the Ministry of Education asked them to reveal their ethnic group in a survey many say reminds them of the run-up to the Rwandan genocide.
There have been growing fears that the nation could be sliding into a Rwandan-style genocide after a number of calls for ethnic-based massacres in Burundi have emerged on social media over recent weeks – orders the embattled authorities and the opposition have condemned.
Scores have died since April when President Pierre Nkurunziza launched a controversial bid to prolong his term in office. A wave of assassinations in the capital, Bujumbura, have targeted politicians of all parties, military officers, and human rights defenders, and corpses appear on a near-daily basis. The UN has cited at least 240 deaths since April, but the real toll is likely much higher.
In the past week, however, a survey asking for teachers' personal information has been circulating on the behalf of the Minister of Higher Education & Scientific Research. While this is not uncommon for the ministry to collect employees' details, teachers say they were shocked to see that one of the fields (see picture) to fill in was "ethnie" (ethnic group in French).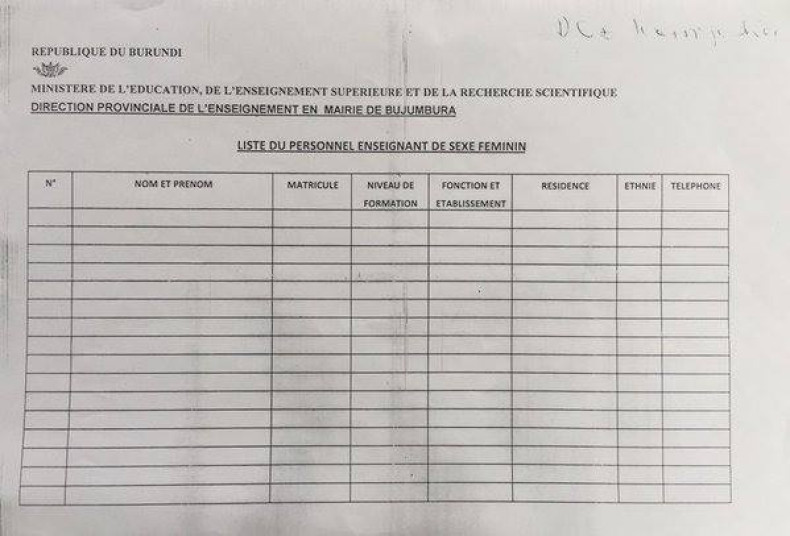 "These are census records that the ministry has issued, and the problem is that it is asking the ethnicity of people on those papers," a local journalist told IBTimes UK.
"This is something that has never been done [in Burundi] and reminds us of the registration of citizens in Rwanda just before the [1994] genocide," the journalist, who asked to remain anonymous, said from Bujumbura.
According to the journalist, spokespeople for the ministry had "denied the existence" of the "ethnic group" field in the form, before SOS Media Burundi – an underground group of reporters, which is using social media to get around state censorship – managed to acquire a copy.
The government has denied any wrongdoing, and has reiterated its condemnation of calls for genocide.
In October, Nkurunziza's ruling power accused the European Union of ethnic bias after it imposed sanctions against four Burundians for "undermining democracy" and blocking efforts to resolve the political crisis. It said the trading bloc was purposefully targeting Hutus.
A government delegation is to travel to the Belgian capital Brussels, where it is expected to participate in mediated talks aimed at restoring peace on 8 December, after the EU requested discussions under an EU development cooperation pact following what witnesses call a deadly government crackdown on opposition members.
The majority in Burundi say they want peace, after their Hutu-Tutsi ethnic conflict resulted in the slaughter of between 80,000 and 200,000 Hutus by the Tutsi army in 1972, and the civil war that ran from 1993 to 2005 left 300,000 people dead.
During that time, neighbouring Rwanda witnessed massacres which cost more than one million lives.