Burundi's Council of Ministers, spearheaded by President Pierre Nkurunziza, is about to set up a commission that will look into proposing constitutional amendments.
Those in the opposition and civil society accuse the government of unilaterally pushing for constitutional changes that would strengthen the executive, and could include amendments to a clause that stipulates a president can only serve for two terms.
Sparking the worst conflict since a 12-year civil war ended in 2005, Nkurunziza secured a hugely contested third term in office in July 2015 – after the constitutional court allowed him to run despite the two-term limit.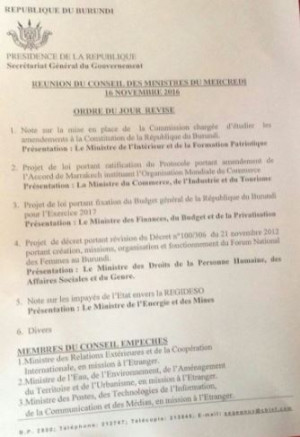 On 16 November, Council of Ministers' officials are expected to discuss the creation of a special commission in charge of "studying amendments to the Constitution", according to a copy of the meeting's agenda (below).
IBTimes UK previously reported that people in Burundi were voicing concerns after the Senate asked the government to carry out a census of every civil servant in the country – based on ethnic origin. Many detractors said the move was reminiscent of those enforced in the lead-up to the 1994 Rwandan genocide.
There are growing fears the nation could be heading for a Rwandan-style genocide, after a number of calls for ethnic-based massacres in Burundi have appeared on social media over recent months – orders the embattled authorities and the opposition have condemned.
The majority in Burundi say they want peace. The country's past is scarred by the Hutu-Tutsi ethnic conflict – which resulted in the slaughter of between 80,000 and 200,000 Hutus by the Tutsi army in 1972. The civil war, from 1993 to 2005, also left 300,000 people dead following Tutsi massacres by the majority-Hutu populace.
Tensions rising over constitution changes
Plans by Burundi's government to make radical amendments to the constitution in 2013, and again in 2014, raised concerns that changes could disturb the power-sharing requirements that have kept ethnic tensions in check since the end of the war, which left up to 300,000 dead.
The 2005 constitution is based on the Arusha Accords – a political framework widely attributed to have brought Burundi out of its 1993-2005 civil war – that introduced power-sharing arrangements between Hutu majority and Tutsi and Twa minorities, along with the rule of law, repatriation of refugees and merging of government and rebel armies.
According to the 2000 Arusha peace agreement, Burundi's president can only be elected twice. Nkurunziza's supporters, however, argue that the president's first term should not be counted, as he was chosen by the parliament, not directly by the people as the constitution specifies.
Nkurunziza's bid for a third term triggered violence and insecurity. There are currently 311,956 Burudian refugees living outside of the country – 81,565 of whom have found solace in its sister nation, Rwanda.