Burundi: Protest hotspots 'deserted' as people flee the capital claims opposition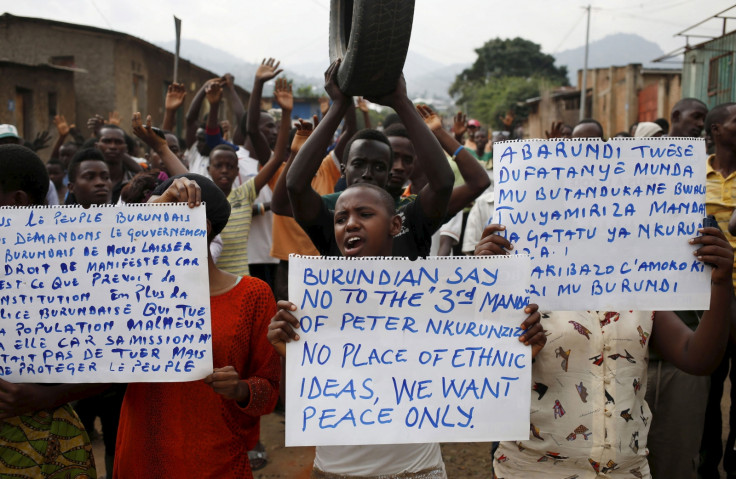 Burundi capital Bujumbura has fallen silent again as demonstrators who are against President Pierre Nkurunziza's third-term bid are clearing protest hotspots, but opposition leaders say they are finding new ways to show their discontent.
Nkurunziza, meanwhile, is consolidating his position in the aftermath of a failed coup attempt on 13 May by carrying out a relentless crackdown on dissidents and enforcing a virtual ban on protests as security forces tighten their grip on an increasingly desperate population.
Opposition leaders want the president to withdraw his third-term bid, claiming it violates the country's constitution and the Arusha Accords, a peace deal that ended ethnic civil war and established the foundation for Burundi's post-conflict recovery in 2005.
But Nkurunziza's supporters argue the president's first term should be discounted as he was chosen by the parliament and not by the people in an election as is specified in the agreement.
Police behave as if people were at war
While opposition leaders claim demonstrations, which have lasted for over a month and left more than 40 dead, resumed on Monday (8 June), Frederic Banvuginyunvira, vice-president of opposition party the Front for Democracy in Burundi (known by its French acronym Frodebu), confirmed a number of districts were empty.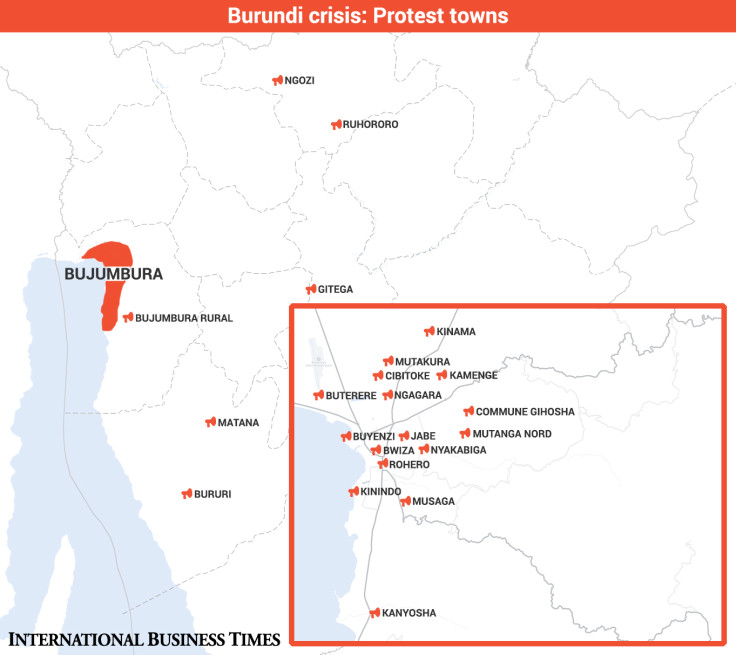 "People are struggling to protest, and are leaving the districts in Bujumbura to go to the interior of the country, or Uganda, because police continue to fire at protesters in those areas," Banvuginyunvira told IBTimes UK from his hiding place.
"Police behave as if people were at war. They use Kalashnikovs, sub-machine guns and grenades on civilians, and try to impose a war on those people who cannot defend themselves. People are getting tired of being shot at," the politician said.
On Monday morning (8 June) police opened fire using live bullets in the Mutakura district, according to local sources. In the areas of Ngagara and Cibitoke, however, no demonstrations were reported.
Police behave as if people were at war. They use Kalashnikovs, sub-machine guns and grenades on civilians, and try to impose a war on those people who cannot defend themselves.

- Frederic Banvuginyunvira
On the night of 3 June, clashes between the police and protesters in Ngagara left three injured - one of whom died the next day.
The following night, police raided Nyakabiga, another protest hotspot, where sources say they heard screams and shots being fired.
More than 500 people are estimated to have been arrested so far since the protests started on 26 April.
Moving out of the streets
For the opposition, however, it is essential protesters find other ways of demonstrating, as they claim the capital Bujumbura's streets are becoming too dangerous.
"I doubt the movement will peter out, but we need to find new forms to protest," Banvuginyunvira said.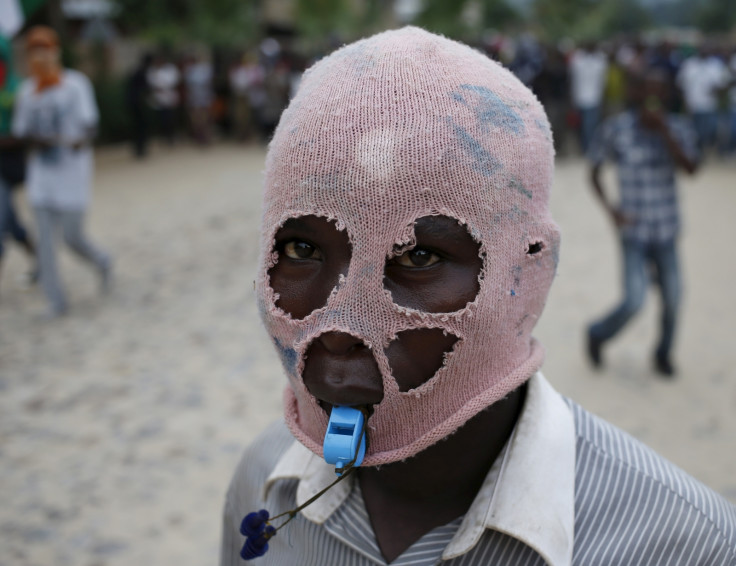 A protester uses a mask to obscure his identity during a protest against President Pierre Nkurunziza's decision to run for a third term in Burundi
Reuters/ Goran Tomasevic
Already, protest leaders have come up with new ideas.
On Friday, the opposition urged every protester against the third mandate to get hold of a whistle, with the goal of "blowing the final whistle of Nkurunziza's game," civil society group leader Pacifique Nininahazwe told IBTimes UK, in reference to the president's passion for football.
"We must determine a time to blow our whistles every day to tell [Nkurunziza] the game is over. I think football is the only language he will understand," said a protester, who wished to remain anonymous.
In 9 June, protesters say they will honour the funeral of Théogène Niyondiko, who was killed on Friday in Musaga by a policeman, "who aimed at him on purpose."
CENI meeting rejected
However, a number of opposition leaders have told local press they have refused to attend a meeting called by the national independent electoral commission (CENI) to discuss new election dates on Monday.
"We cannot be convened by a body that does not exist anymore," Charles Nditije, who speaks on the behalf of the opposition parties, told Iwacu.
A week ago, two members of the commission resigned - leaving the CENI with only three members out of five and rendering the body non-compliant with the country's Constitution.
Police raids Cibitoke for arms
On Monday morning, police raided the district of Cibitoke after receiving information about potential arms caches.
The arms, a police source told IBTimes UK, come from the Bureau Central de Recherche (BCR), which protesters stormed on 13 May after the coup was announced on radio.
That day, civilians entered the building by force, where they allegedly released detainees and made away with police arms.
© Copyright IBTimes 2023. All rights reserved.