Exactly a year on, Burundians are marking the first anniversary of one of worst nights of violence in the embattled country's history. The violence was ignited on 11 December, 2015, after unknown attackers, believed to be rebels, launched assaults on three military positions and a military training centre in Burundi's capital, Bujumbura, at about 3 or 4am.
The attack came seven months after a military coup failed to overthrow the country's president Pierre Nkurunziza.
At the time, presidential spokesperson Jean-Claude Karerwa said the rebels had committed "war crimes and crimes against humanity".
In retaliation to the attacks, which left eight policemen and soldiers dead, on 12 December police and military pursued "enemies" into two of the neighbourhoods where there were strong demonstrations against Nkurunziza's third term.
The death toll of the attacks rose to 87 after officers went door to door dragging out young men from their homes before killing them.
Residents discovered bodies lying on the streets, some handcuffed. Most of those killed were residents of Musaga, Mutakura, Nyakabiga, Ngagara, Cibitoke and Jabe – all districts mostly inhabited by members of the minority Tutsi ethnic group, according to Amnesty International.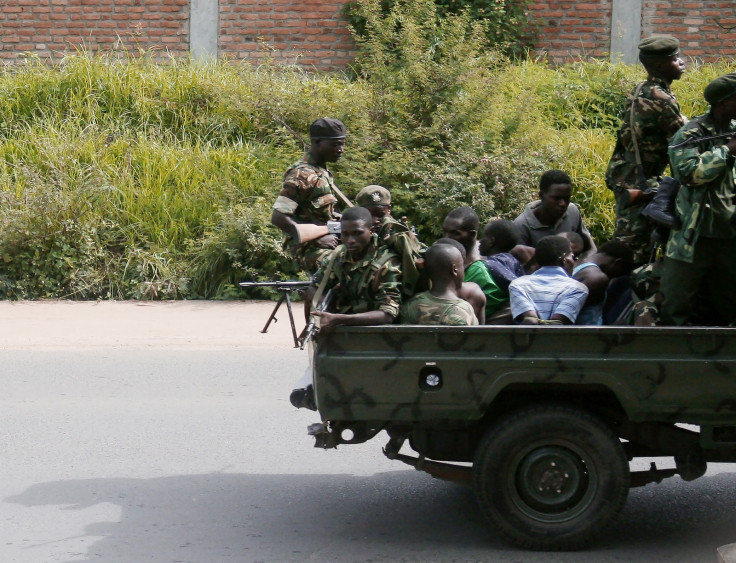 "In the single most deadly day since the current political unrest began, the streets of Bujumbura were left littered with bodies, many shot with a single bullet to the head. At least one body was found tied up," said Muthoni Wanyeki, Amnesty International's regional director for East Africa, the Horn and the Great Lakes.
"The security forces' violent tactics that day represented a dramatic escalation in scale and intensity from previous operations. Men were dragged out of their homes and shot at close range, while others were shot the instant their doors were opened."
Described as "a dramatic escalation in scale and intensity from previous security operations" by the rights group, the event became known as the #1212massacre.
On 12 December, 2016, users took to social media to pay tribute to those killed.
Gilbert Niyonkuru, head of programming at the popular radio station Radio Publique Africaine (RPA), shared a map on twitter of Burundi on which was outlined: "We can forgive but not forget 12/11/2015". RPA's headquarters were attacked in May, 2015, after coup plotters announced their plans to overthrow President Nkurunziza.
Using the trending hashtag, campaign group SOS-Torture Burundi which was created in response to the deadly event, said "Awareness was born after the tragic #1212massacre".
Along with Amnesty International, Human Rights Watch (HRW) denounced the fact local government trucks removed most of the bodies littering the streets "before any investigation could be conducted". One of the main human rights groups in Burundi, the Association for the Protection of Human Rights and Detainees (APRODH), Pierre Claver Mbonimpa, claimed Burundian authorities buried victims killed by police in mass graves.
This, HRW said, "suggests a deliberate cover-up and attempt to prevent proper investigations into the events of 11 December". The organisation said those killed were civilians, not opposition fighters or "enemies", and that "those suspected of criminal responsibility for these heinous crimes must be held to account before an ordinary civilian court".
While the Burundian authorities carried out a commission of inquiry, Human Rights Watch said it had "failed to properly investigate security force abuses or hold those responsible to account". The campaign group described the findings of Prosecutor General, Valentin Bagorikunda's inquiry as "misleading and biased".
Karakura, who is believed to be an opposition supporter, echoed this position, tweeting ICC Prosecutor Fatou Bensouda: "Victims can't be denied justice".
Burundians of the diaspora in countries such as France, Belgium and Benin are expected to hold masses in homage to the victims.