Burundi's opposition has been calling on the facilitator in the Burundian crisis, former Tanzanian President Benjamin Mkapa, to step down after he said President Pierre Nkurunziza, as well as the controversial 2015 elections, were legitimate.
Burundi's 18-month deadly violence erupted after President Pierre Nkurunziza announced a controversial run for a third term, which he won in contested elections in July. Major opposition figures and some civil society activists claim Nkurunziza was violating the constitution's two-term limit.
In March this year, Tanzania's former President Mkapa was appointed as the facilitator for Burundi peace talks by the East African Community (EAC). At the time, opposition welcomed his nomination, highlighting his experience in dealing with Burundian political groups.
Mkapa, in his capacity as vice chairman of the Regional Initiative On Burundi, was one of the figures who helped a peace agreement, dubbed Arusha Accords, being reached between the then-transitional government of Burundi and the main Hutu rebel group − the now ruling CNDD-FDD party − in November 2003.
However, an opposition coalition has now dropped its support for the Tanzanian diplomat after he told reporters Nkurunziza's third term was legitimate.
"Legitimacy is lent by Burundians and those who think I am the one that is lending legitimacy, are absolutely out of mind," he said in the capital, Bujumbura, on 9 December during a three-day visit. "Ambassadors come in Burundi and present their credentials to President Nkurunziza. Isn't it a way of recognising him as a president of this country? So what is this foolishness!"
The National Council for the Restoration of Arusha Agreement and Rule of Law (CNARED), the main opposition coalition, which claims Nkurunziza's term is unconstitutional, accused Mkapa of "reinforcing the position of the de facto regime of Mr Pierre Nkurunziza by acknowledging its disputed legitimacy".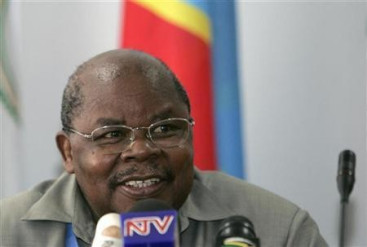 The coalition's spokesman, Pancrace Cimpaye, in a statement condemned Mkapa's "exclusion of the other stakeholders involved in the crisis" including CNARED, and said his statement had "put an end to the [peace talks] process [...] which constitutes an admission of failure".
CNARED is among the groups not invited to the Arusha talks.
Mkapa is expected to start the mediated talks in January and conclude them by June at the latest. Cimpaye called on Mkapa to resign, and for the United Nations to take over the inter-Brurundi peace talks.
One of the coalition's group, the Rassemblement des Démocrates Burundais (RDB) party, condemned Mkapa's calls for free, fair and credible elections to be held in 2020.
Having begun in April 2015, the crisis currently sweeping through Burundi has left an estimated 1,000 dead and 6,000 imprisoned.