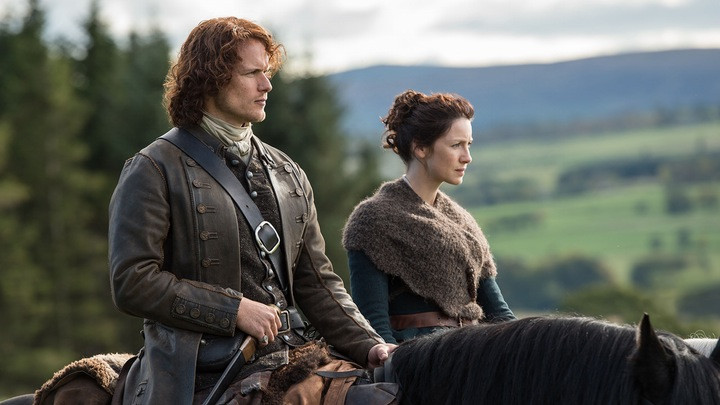 Outlander season 3 premiere date is delayed until September, which implies fans will have to wait another six months to meet Jamie and Claire Fraser. Actor Caitriona Balfe who plays Claire apologised for the long hiatus.
Balfe said apologetically to Entertainment Tonight, "Yeah, [the Droughtlander] is a little longer than I think people thought. Sorry!" Teasing plot details for the Starz show, she said, "I think this season is going to be really interesting and it's going to be so new again. I mean, I think we do that every season; we sort of flip it on its head. Last season, we went to Paris and it was something totally different. This season, we start off with a little bit of a separate storyline, which is really fun for us. We're hoping the fans will be as happy."
The 37-year-old actress is confident that Jamie and Claire's reunion in the print shop and their Jamaican adventure will be worth the wait. She told the outlet, "We've got the great reunion happening and then we go to South Africa -- well, in the story it's Jamaica -- but there's old ships involved and it's just a constantly evolving, exciting adventure."
Balfe also revealed that she will start filming in Cape Town, South Africa, next week and that the rest of the Outlander production team, including her, will be there for "a couple of months" to finish up shooting. "In my head, I'm going on a three-month holiday in the sun, but it'll be work every day. But it'll be great. It'll be really exciting. I've read the scripts, the scripts are really great, so I'm really looking forward to that," she told the website. Based on Diana Gabaldon's best-selling Outlander series, the third season will pick up right after Claire travels through the stones to return to life in 1948.
Previously, president of programming at Starz, Carmi Zlotnik, spoke to Deadline about the long hiatus. He said, "While 'Droughtlander' will last just a little longer, we feel it is important to allow the production the time and number of episodes needed to tell the story of the Voyager book in its entirety. The scale of this book is immense, and we owe the fans the very best show. Returning in September will make that possible."