French police at the port of Calais have intercepted more than 600 migrants attempting to enter the UK over the last 48 hours, Eurotunnel said.
The operator of the link between France and the UK, which has been effectively under siege by migrants attempting to get into Britain, said between 300-350 people had been intercepted each night between 29 and 30 July.
"Over the course of last two nights we were on the same level when we had around 300 to 350 migrants intercepted," a Eurotunnel spokesman told IBTimes UK.
However, he explained the numbers of those attempting to storm the Eurotunnel terminal at Coquettes had fallen dramatically from the thousands that had attempted to breach security on Monday and Tuesday night.
He attributed this to the efforts of French police which have received much needed reinforcements at the port. On 29 July French Interior Minister Bernard Cazeneuve, said an extra 120 police officers had been sent to Calais.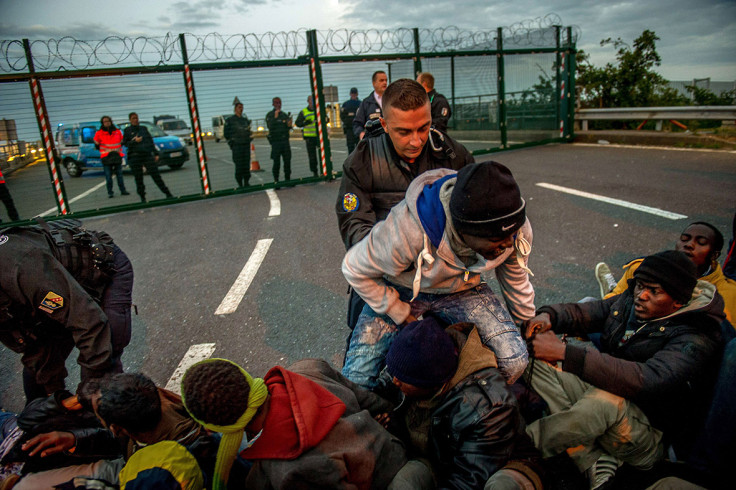 "Now, as a result, the situation is far better," the spokesman explained.
Eurotunnel welcomed the announcement by David Cameron to introduce further security measures at its sites. The Prime Minister said following a convening of the Cobra emergency committee that the government would provide extra sniffer dogs and fencing for the French side of the border.
The decision comes after the British government promised to provide £7m ($10.9m) of funding to bulk up security around the French port.
Jacques Gounon, Chairman and Chief Executive of Eurotunnel said in a statement that: "This joint and significant effort by the two governments underlines the vital importance of the channel tunnel fixed link for international cooperation."
Eurotunnel has made significant spending increases on security during the escalation of the migrant crisis. The group spent €17 million in the last six months on security, more than the group spent in the whole of 2014.
The scenes of chaos at Calais over the last month have been as a result of a change in tactics by the 5,000 migrants camped near the town. In the past individuals attempting to illegally enter the UK would attempt to board lorries before they entered the terminals.
Now migrants are storming the terminals in vast numbers in the hopes that some will get through. Nine migrants have died attempting to enter the UK over the last month.