The UK and France are to tackle criminals trafficking migrants through Calais and other ports in the region with the creation of a joint command centre, which was announced when the Home Secretary Theresa May visited the Eurotunnel site. Meeting with her French Counterpart Bernard Cazeneuve, May praised the level of cooperation between Britain and France and promised an increased effort to break up criminal gangs operating in the area.
A Home Office statement said the new command centre would draw on the skills of the British and French border forces and would be based in Calais. British police officers at the control centre will work alongside the French police and Border Force. They will be led by two senior operational leads or "Gold Commanders", one British and one French. The government department said: "The two countries will also work jointly to ensure networks are dismantled, prosecutions are pursued and perpetrators are punished."
This command centre will be closely supported by the existing British joint intelligence unit in Folkestone, which already includes French law enforcement personnel. The agreement will be signed today (20 August) and follows the announcement two days ago of joint plans by Britain and France.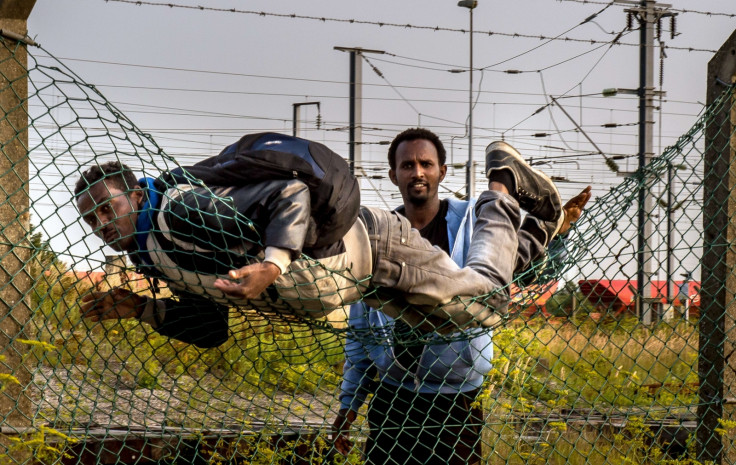 The visit by Theresa May to Calais is the first time a British government official has visited the port since the beginning of the migrant crisis in May. France sent 120 riot police to the region at the end of July and Britain provided £7m ($11m) in security measures to protect the Eurotunnel terminal at Coquelles after 2,000 attempts were made by migrants to storm the tunnel in one night.
Activists in the Jungle, where the majority of the roughly 3,000 migrants and refugees in Calais reside, have said the increased number of security breaches at the terminal were the result of tighter security measures at the town's port. At least 11 migrants died trying to get to Britain between June and July this year.
The British and French governments have also agreed a raft of other security measures to tackle the crisis. Existing French forces will be supplemented with mobile policing units, and the UK will provide CCTV, flood lighting and infrared detection technology. Additional 24/7 freight search teams, including detection dogs, will also be deployed.
There have been increasing reports of criminal groups operating out of northern France and orchestrated by UK-based gangs. Ukip MEP Mike Hookem inadvertently uncovered one such operation while filming a documentary about Calais.
When contacted by IBTimes UK French police would not confirm or deny whether British criminal gangs were operating people smuggling operations, saying the issue was "too politically sensitive".