French police are being sent to Dunkirk to break up a British migrant trafficking gang operating out of a migrant camp after UKIP MEP Mike Hookem was threatened with a gun while filming there.
A British group of criminals, directed from south London, are believed to be behind the Dunkirk-based operation. The gang is moving migrants of Iraqi, Syrian, Iranian and Vietnamese origin from the 200 strong camp on the outskirts of the port town.
They transport the migrants over the channel aboard ferries in British registered vehicles. According to an investigation by the Times newspaper migrants pay a €1,500 (£1,050) each to be taken into Britain from the Dunkirk camp.
The Téteghem camp appears to be controlled by a man of Middle Eastern appearance in his 30s and is comprised of a number of shipping containers to house the migrants.
The danger posed by people-smuggling gangs operating in northern France was highlighted by British MEP Mike Hookem after he was threatened with a gun at the camp on 10 August.
"The shouting was threatening and it was starting to pick up. I said to everyone 'Ok we need to back out,'" the MEP for Yorkshire and North Lincolnshire told IBTimes UK.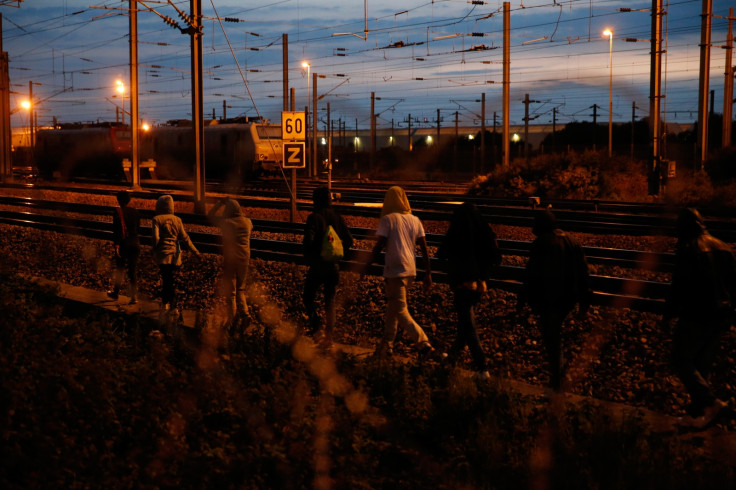 It was then the gun was spotted. "My sound man said 'he's actually just pulled a gun on us' and by this time we were moving out of the camp as fast as we could," Hookem said.
The Ukip MEP said he was told the gun was "pointing straight at us". He added that he thought the team was safe when they went to central Dunkirk, describing it as "a frightening situation".
Criminal groups, which exploit the refugees attempting to leave Calais, have increased their smuggling rates to get migrants over the wire and into the Channel Tunnel in response to the increased security presence by France and Britain.
Bernard Cazeneuve, France's minister of the interior, sent 120 police officers to reinforce security personnel at Calais on 29 July. Sniffer dogs promised by David Cameron after 2,000 migrants attempted to storm the tunnel on 27 July and more security fencing have also started to arrive in France.
The rates for people smugglers operating outside of Calais has risen two fold because of the increased security measures. The cost for migrants, many of whom are funded from abroad, to get on a truck through Calais Port has risen from €500 to €800 or €1,100.