Calais migrant crisis: Man arrested after walking length of Channel Tunnel to reach UK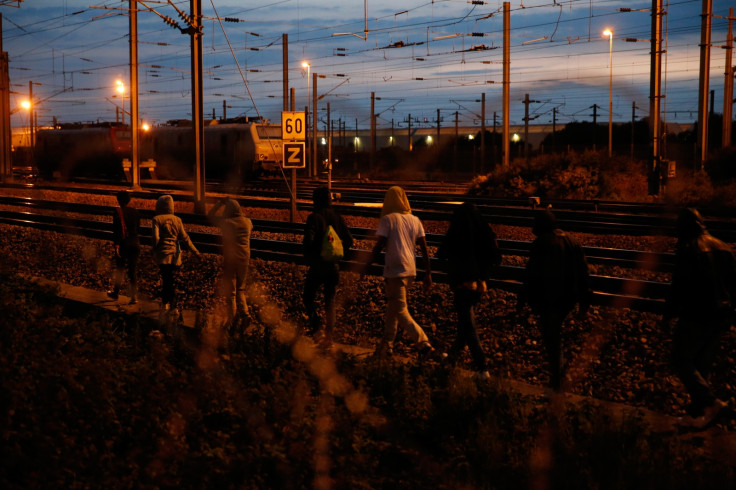 A suspected illegal immigrant walked almost the entire length of the Channel Tunnel before he was arrested in the UK.
Sudanese migrant Abdul Rahman Haroun, 40, is believed to have walked into the 31-mile tunnel in Calais. He was apprehended by Kent police at the exit of the tunnel in Folkestone, Kent on Tuesday (4 August)
He has been charged with causing an obstruction to an engine or carriage using the railway under the Malicious Damage Act 1861. Mr Haroun, 40, is due to appear at Canterbury Crown Court on 24 August to face the obstruction charge,
A spokesman for the rail operator said police removed about 200 people from the site during the night.
There were a further 550 attempts by migrants to enter the terminal at Coquelles overnight on Thursday, 600 attempts to enter the tunnel on Tuesday and 400 a night on Tuesday and Wednesday, according to Eurotunnel.
At least nine people have died attempting reach Britain from Calais this year alone as thousands of people have sought to access the terminal at Coquelles.
Following a meeting of the government's emergency Cobra committee on Monday, in an effort to boost security in Calais to tackle the growing migrant crisis Foreign Secretary Philip Hammond said 100 more guards would be deployed in the Eurotunnel terminal.
The government has also announced a series of new measures intended to deter asylum seekers. Landlords who fail to evict migrants who do not have the right to live in Britain also face a possible prison sentence of up to five years.
Prime Minister David Cameron said: "We have done a lot in recent days to improve the situation. There's a lot more to do. We've got more fencing, we've got more police officers, more sniffer dogs, more guards, better security and we're making progress.
"But there's a lot more to do, including better security in the tunnel itself. Myself, and the team of ministers I've put in place will oversee these improvements and they will take place in the coming weeks and days."
Despite the new measures, the former British ambassador to France, Sir John Holmes, has warned there is no "magic solution" to the number of desperate migrants attempting to cross the Channel.
"This problem has been around for quite a long time and there is not a magic solution," he said, adding that Calais crisis must be viewed in a European context.
"Although it's a very difficult problem and causes a lot of obstacles and complications, it is a relatively small part of a much bigger problem which is the number of people trying to get illegally into Europe from the Middle East and North Africa," he said.
"The problems Greece and Italy are facing are much, much worse. These are quite big numbers there, whereas what we are facing in Calais is relatively small.
"There is a constant flow coming across into Europe in very large numbers and there's no sign of that slowing down, which means ultimately that we have to be more active to tackle some of these problems at source.
"Ultimately if we don't deal with that in some way we are always facing an uphill struggle with people desperate to come because life is better here."
His comments came as 600 migrants, who were rescued after their boat capsized in the Mediterranean, arrived in Italy.
Some 367 survivors, mostly Syrians fleeing the country's civil war, were saved as ships arrived in response to a distress call sent a day after the smuggler's fishing vessel left Libya.
© Copyright IBTimes 2023. All rights reserved.