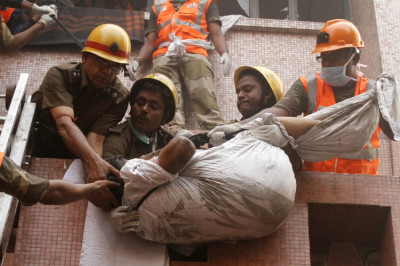 The fire started early Friday morning in the basement of the multi-storey hospital, where it is believed flammable materials were stored.
Most of the victims were patients who were trapped when flames spread through the wards of AMRI hospital in the south of the city.
Fire fighters battled the blaze for five hours before bringing it under control. Officials say the death toll is likely to rise as rescue-workers try to reach the upper floors.
Local people climbed into the hospital compound to rescue trapped patients before the emergency services arrived, reports the BBC.
"We have taken 50 patients to an adjacent hospital. The situation is grim at the moment," fire brigade chief Gopal Bhattacharya told Agence France-Presse news agency.
West Bengal Chief Minister Mamata Banerjee said the licence of the hospital had been cancelled.
She said fire was an "unforgivable crime" and that those responsible would be given the harshest punishment.
Reports say that there 160 patients in the 190-bed hospital. Many are still unaccounted for.