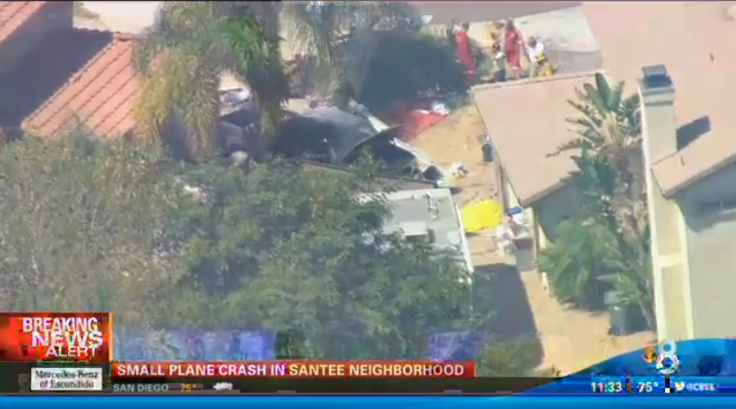 A small plane crashed in a San Diego neighbourhood after clipping a roof, flipping over and landing upside down, killing both people on board. The incident occurred early on 3 September shortly after the single-engine Piper Cherokee took off.
According to CBS News 8, the plane belonged to the Golden State Flying Club and was carrying an pilot instructor and a student pilot. The instructor died at the scene while the student died after being taken to the Sharp Memorial Hospital.
Santee Fire Chief Richard Smith told reporters that no one on the ground was injured. Smith added that two vehicles in the driveway and the roof of the house next door were damaged.
"It was unfortunate for the two men on the plane — we feel for their families — but we're happy that no one else was hurt," Smith said. According to the San Diego Union-Tribune, the names of the victims have not been released.
Craig Liley, a neighbour who witnessed the incident, told CBS News 8 that he heard the plane's engine stuttering. "I looked out my bedroom window and this thing is banking around, wings up and down sideways, and I could tell he was looping around trying to get back to the airport and you could see he was not going to make it," he said.
Liley told reporters that when he heard the crash, he headed to his car and drove to the site of the crash. "It went sideways into a driveway and hit the back of a car and then slid into a truck and pushed the truck into the neighbour's house. There was an RV between the houses and they were in the process of backing the RV up and then they had to get garden hoses on it," said Liley.
The San Diego Union-Tribune reported that the plane caught fire following impact, but it was quickly extinguished by bystanders. The crash is being investigated by the Federal Aviation Administration and the National Transportation Safety Board.