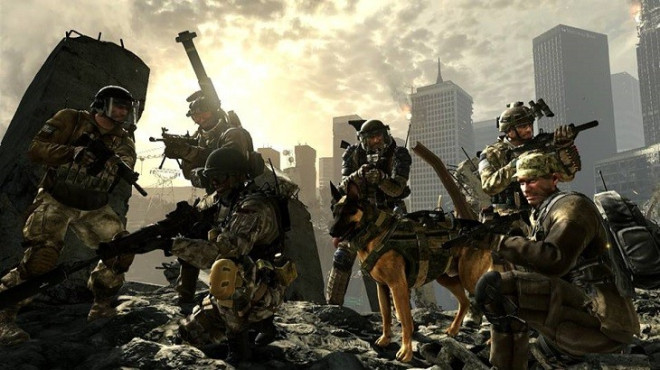 A coroner has expressed "great concern" about the video game, Call of Duty, following the deaths of four teenagers who regularly played it.
Speaking at the inquest of the death of 16-year-old William Menzies, coroner for south Manchester John Pollard, expressed his concern over the war game after it became a factor in "three of four" inquests into the deaths of teenagers.
William, a student at Altrincham grammar school, killed himself at his home in Hale, Greater Manchester, on 17 February. His father told the inquest that Call of Duty was the game he "always" played.
Pollard said he previously presided over the inquest into the death of 14-year-old Callum Green, who killed himself after playing the game with his stepfather in March 2012, and the game was also linked to the deaths of two other unnamed teenagers.
Returning a verdict of suicide into William's death, Pollard said: "I have to say, and this is after three or four inquests into the deaths of teens, the Call of Duty game seems to be figuring in recent activity before death. It concerns me greatly.
"It has figured in a number of deaths which I'm investigating. I suspect, but I don't know because I don't have enough evidence, that William may have been experimenting with something or deliberately intending to do something but we haven't got the evidence."
He added: "There was no note or indication he was feeling down or distressed."
The hugely popular Call of Duty franchise has sold more than 130m copies around the world since 2003, but has also been dogged by controversy. Norwegian mass murderer Andreas Brevik claimed to have practised shooting on the game before going on to kill 77 people.
French terrorist Mohamed Merah is also said to have played the video game before going on to shot dead three soldiers and four civilians, including a Rabbi and three children, at a Jewish school in Toulouse in March 2012.
Speaking at the inquest, William's father John said there was no prior warning that his son, who achieved 12 As in his GCSEs, would take his own life.
He said: ''Nothing about him caused concern. He was very taken with his studies and he enjoyed playing his Xbox. The game he always played was Call of Duty.
''He was rather self-contained, he didn't like going out a great deal. He didn't drink or smoke, he was the opposite to that.
"He had exams coming up but that wouldn't cause him any worry as he was a straight-A student. He never threatened to self-harm to my knowledge."
DI David Moores of Greater Manchester police also said there was no indication why William had taken his own life.
He added: "His was a normal boy's bedroom with books and models and it was tidy. He didn't have a mobile phone but I was told that evening that two journals had been found.
"The journals had juvenile comments in but nothing significant. The computers were tested to see his internet history and there was nothing of any interest and nothing to suggest he had been researching any sites."
Pollard also returned an open verdict into the death of 14-year-old Callum Green, who was found dead at his home in Stockport, Greater Manchester by his mother after they had had a row.
The coroner suggested the teenager may have wanted to shock his mother, but gave a warning against young people playing age-restricted video games.
"It is very important that young children don't play them or have access to them. I make a plea with parents to keep a very close eye on their children in that way," he said.
For confidential support call the Samaritans in the UK on 08457 90 90 90 or visit a local Samaritans branch, see www.samaritans.org for details