David Cameron is facing one of the most difficult question times of his premiership when he faces opposition leader Ed Miliband determined to pin him down over the Coulson affair.
The prime minister goes into the 30-minute weekly session already on the back foot having made what he called a "full and frank apology" for his "bad decision" in bringing the convicted phone hacker into the heart of his government.
He has adopted what Tony Blair's former spin doctor, Alastair Campbell, once branded a "masochism strategy" of throwing his hands up in surrender, taking the flak and appearing contrite and genuinely remorseful.
His big challenge when facing the planned barrage of taunts from Miliband and the Labour benches, who are hyped up for the occasion, will be to retain that air of penitence.
If he defaults to his usual, unflattering, Bullingdon Boy/Flashman routine and trys to abuse Miliband, it will backfire and undo much of the work he has so far done to disentangle himself from the fallout of the hacking trial.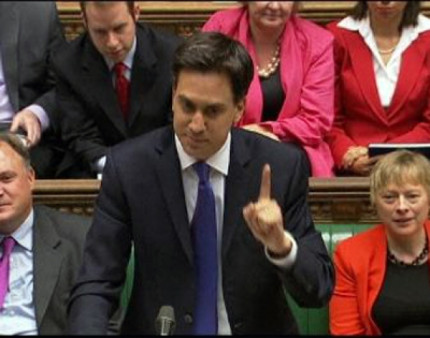 Miliband's job is not much easier. He needs to successfully pin Cameron down on some very specific points about why Coulson was spared a full vetting procedure of the sort previous spin doctors, such as Damian McBride, were subjected to.
He also needs to press home the point, with evidence, that Cameron persistently refused to accept advice and the mounting evidence against Coulson.
And, above all, Miliband will want to get the message across that he is the one who led the charge against Murdoch over hacking and is the only leader who can be trusted to take on big vested interest.
It is also likely Miliband will renew his demands for the government to impose the post-Leveson regulation of the press which, so far, they have refused to back in favour of creating their own successor to the discredited Press Complaints Commission.
It may sound easy but it isn't. For a start, Miliband and Labour have their own uncomfortable history of buttering up the Murdoch empire, via Rebekah Brooks and others. Ever since Margaret Thatcher's reign, political leaders without exception have gone out of their way to get Murdoch on-side.
It was only when the hacking story started to break that Miliband took what has rightly been seen as a brave decision, to lead the campaign against News International.
But most recently he has himself been forced to apologise after appearing on the front page of the Sun newspaper wishing the English football team well.
It is a thin tightrope he has to walk and it will take skill to pull it off with complete success.