The sheers size and scale of Apple's circular Campus 2 building has been revealed in new drone video footage showing that work has begun on the building of the company's new headquarters in Cupertino, California.
The footage, shot by Myithz, shows that building work on the massive structure has begun after foundations were poured last month. The drone footage shows the huge scale of the building which will house 12,000 Apple employees across 2.8 million square feet.
Apple is remaining about as secretive about the new building as it is about new iPhones or iPads, surrounding the entire construction site with a high, green wall, as well as security guards trying to track down drone pilots.
The latest footage shows construction is well under way but it will still be a further two years before the building - which has been variously dubbed The Donut and The Spaceship - will be finished.
Greenest building on the planet
Apple CEO Tim Cook says that the new headquarters will be built to the highest environmental standards.
"We're building a new headquarters that will, I think, be the greenest building on the planet. It'll be a centre for innovation, and it's something clearly our employees want and we want," Cook said last month.
Once completed, the 176 acre site will feature 15 acres of newly-planted Californian grassland with 309 different species of trees, and the centre of the circle will be home to a large courtyard with apple orchards and a herb garden for a nearby patio and canteen.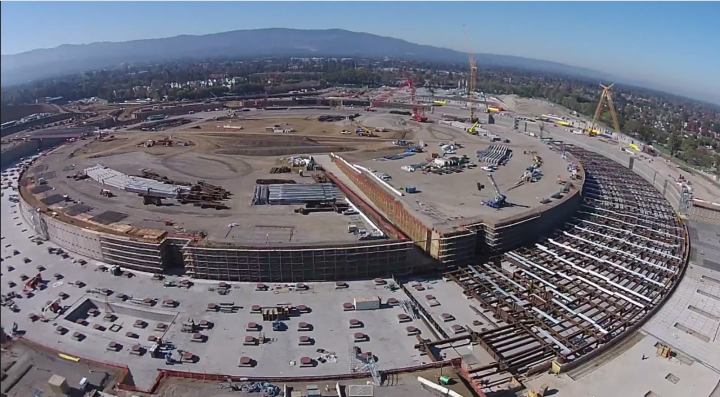 Campus 2 is being designed by Foster + Partners, headed by renowned British architect Sir Norman Foster, who is also responsible for Wembley Stadium, London City Hall and 30 St Mary Axe, commonly known as The Gherkin.
The cost of the new Apple headquarters is officially unknown, but a report last year suggested that the project was $2 billion over budget with costs spiralling from under $3bn, to now over $5bn.