Camra, the Campaign for Real Ale, has chosen the Baum in Rochdale, Lancashire, as the National Pub of the Year.
Owners Heidi and Simon Crompton bought the pub in 2005 just two days after having their first child. Simon had worked in the premises since 1993 and was made manager two years later.
The Baum has been a pub for 30 years. It was converted from a hardware store and sits next to the Pioneers Musuem, which is the original Co-op store.
Camra said the pub fulfilled all the criteria to be named its Pub of the Year, with a good atmosphere, décor, service and value, a mix of customers and high-quality beer.
The Good Beer Guide 2013 describes the pub: "A split-level hostelry with old-world charm next door to the world's first Co-operative store. The Baum has eight handpumps, one dedicated to cider, and a large variety of continental bottled beers.
"Excellent food includes vegetarian dishes, with a tapas menu available throughout the week. There is an upstairs dining/function room. The large rear garden, overlooked by a conservatory, contains two full-size pétanque pistes."
It beat off three other finalists: the Bridge End Inn in Ruabon, Wales, which was last year's winner and the first Welsh champion; the Conqueror Alehouse in Ramsgate, Kent; and former champion the Tom Cobley Tavern in Spretyon, Devon.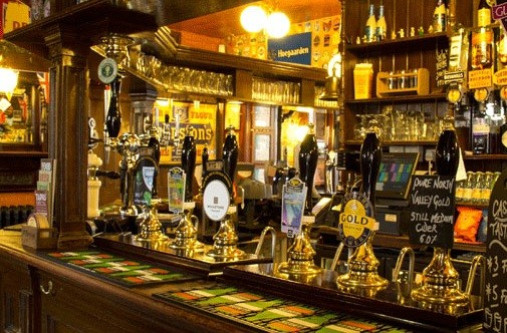 Peter Alexander, chairman of Rochdale, Oldham and Bury Camra, said: "We are absolutely thrilled that the Baum has been chosen as Camra's National Pub of the Year.
"While we locally know how good a pub the Baum is, it is fantastic to have this confirmed by senior judges who have never visited it before. Given that the Baum was up against some tremendously fierce competition, Simon and Heidi have done a tremendous job.
"There is no higher accolade in pub awards and we in the local Camra branch are very proud to have Britain's best pub in our area."
IBTimes UK's Marverine Cole, one of Britain's few female beer sommeliers and top beer writer noted for her award winning blog Beer Beauty, said winning the Pub of the Year award is no easy feat.
Speaking about The Baum, she said: "I've looked at their beer range and I'm mightily impressed. Looks like Rochdale is a very impressive haven for all beer fans.
"They have a vast range of local and national produced cask ales which change regularly and they have a fabulous offering of bottled beers from all around the world.
"Just looking at their website it opens the window on a pub which is indicative of the positive and progressive way some pubs are going: not only offering a great beer range - beer being Britain's national drink but also offering great food sourced from local producers and constantly updating their customers what they're doing and the offers they have on via social media."