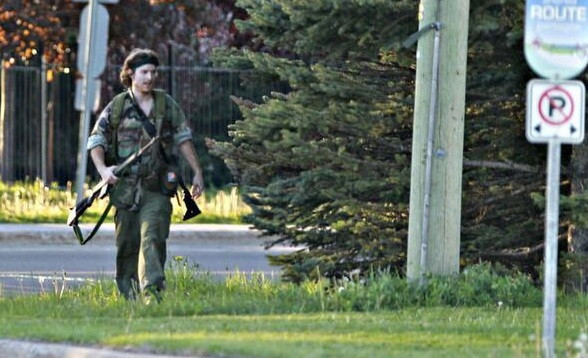 New Brunswick manhunt for heavily armed Justin Bourque continues despite three sightings of the suspect since shootings occurred.
A city-wide manhunt, which consists of Royal Canadian Mounted Police (RCMP), local police and soldiers from a nearby army base, is continuing.
Police said that it was the "darkest day" in the history of the RCMP in the province of New Brunswick.
"This is working through your worst nightmare," New Brunswick RCMP Commanding Officer Roger Brown said.
"There's no way to describe the level of hurt," said Brown when speaking of the families of the officers killed.
RCMP Supt. Marlene Snowman said that police hope the suspect will be caught without any further casualties.
"We'll continue to search at all costs, hopefully with no other injuries or deaths to anyone," she said.
Two other officers were wounded in the attack but remain in hospital with non-life threatening injuries.
Schools and local government buildings remained closed in the area while residents have been ordered to remain inside and lock all doors as the search for the suspect continues.