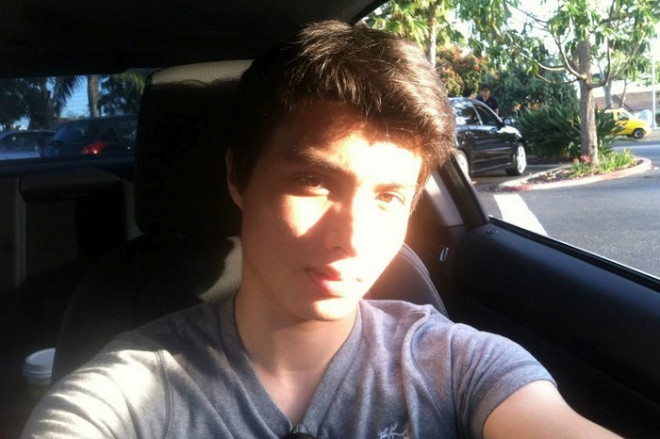 Police officers who visited "virgin killer" Elliot Rodger weeks before he embarked on a murderous rampage, have revealed that they failed to check the videos he posted online.
The son of a Hollywood filmmaker, 22-year-old Rodger went on a premeditated killing spree as "retribution" for years of rejection from women and his peers.
His family had warned police of disturbing videos he had posted online, weeks before the random gun attacks that left six people dead. They had also alerted an emergency mental health line.
Rodger stabbed three men to death in his apartment, before killing three more victims in the town of Isla Vista's Alpha Phi sorority.
Veronika Weiss, 19, and Katie Cooper, 22 were shot dead near their college campus, while Christopher Michael Martinez, 20, was killed when Rodger fired into a busy deli.
It was revealed that the British-born gunman was questioned by six officers at his home three weeks before he committed the gun crime, but no action was taken.
Police reportedly stayed at the premises for eight minutes. They did not, however search his apartment where he had been stockpiling weapons and did not watch the videos.
They described him as "timid and polite" and accepted his claims that the videos were simply a means of expressing himself.
In a statement, the Santa Barbara County Sheriff's Office said: "Deputies found Rodger to be shy, timid and polite. When questioned by the deputies about reported disturbing videos he had posted online, Rodger told them he was having trouble fitting in socially in Isla Vista and the videos were merely a way of expressing himself.
"Based upon the information available to them at the time, sheriff's deputies concluded that Rodger was not an immediate threat to himself or others, and that they did not have cause to place him on an involuntary mental health hold, or to enter or search his residence. Therefore, they did not view the videos or conduct a weapons check on Rodger."
In his 137-page killing manifesto, which he sent to his parents and therapists on the day of the attacks, Rodger revealed just how close the police came to foiling his plans.
He wrote: "The police interrogated me outside for a few minutes, asking me if I had suicidal thoughts. I tactfully told them that it was all a misunderstanding and they finally left.
"If they had demanded to search my room... That would have ended everything. For a few horrible seconds I thought it was all over. When they left, the biggest wave of relief swept over me."
Just three weeks later, on May 23, he embarked on the killing spree that left six dead and 13 injured in what he described as his "day of retribution."
The sheriff's office also revealed the timeline in the lead up to the killings.
Rodger uploaded a YouTube video detailing his plans at 9:17pm on the day of the shootings. One minute later he emailed his 137-page "manifesto" to his parents and therapist.
The first gunshots were reported at 9:27 pm and approximately eight minutes, later he had shot himself in the head.
The therapist discovered the manifesto half an hour after the killing spree was over and called police at around 10.11pm.
Officers then contacted Rodger's mother and first viewed the rambling manifesto and "Retribution" video at about 10.26pm.
In the video, Rodger says: "Tomorrow is the day of retribution, the day in which I will have my revenge against humanity. Against all of you. For the last eight years of my life, ever since I hit puberty, I've been forced to endure an existence of loneliness, rejection and unfulfilled desires. All because girls have never been attracted to me. Girls gave their affection and sex and love to other men but never to me. I'm 22 years old and still a virgin. I've never even kissed a girl."
The investigation is ongoing.