Canadians wanting to attend a mass rally protesting US President Donald Trump's views on women in Washington DC say they were detained and refused entry at the border.
Thousands of people across the world attended Women's Marches, in cities such as London and San Francisco, on Saturday (21 January), but those travelling to the US capital from its northern border neighbour stopped and turned away by Border Security agents.
One group of eight travelling from Montreal were reportedly halted at the crossing that connects St Bernard de Lacolle in Quebec with Champlain in New York State on Thursday (19 January).
Sasha Dyke, who was in the first of two cars, made up six Canadians and two French nationals, was among those to be turned away after two hours of searches and questioning.
"We said we were going to the Women's March on Saturday and they said, 'Well, you're going to have to pull over'," Dyck said, reported the Guardian.
After this, Dyke said the travellers' cars were searched, their mobile phones examined and each member of the group had their fingerprints and photos taken.
Border agents first told the two French citizens in the group that they had been denied entry to the US and informed them that any future visit to the US would now require a visa.
"Then for the rest of us, they said, 'You're headed home today'," Dyck said.
The group was also warned that if they tried to cross the border again during the weekend, they would be arrested.
"And that was it, they didn't give a lot of justification," Dyke added.
McGill University student and Montreal resident Joseph Decunha was in a separate group to be stopped and turned away.
"The first thing he asked us point blank is, 'Are you anti- or pro-Trump?'" he told the Canadian Broadcasting Corporation.
After he and two friends also had their fingerprints and photos taken, all three were also denied entry.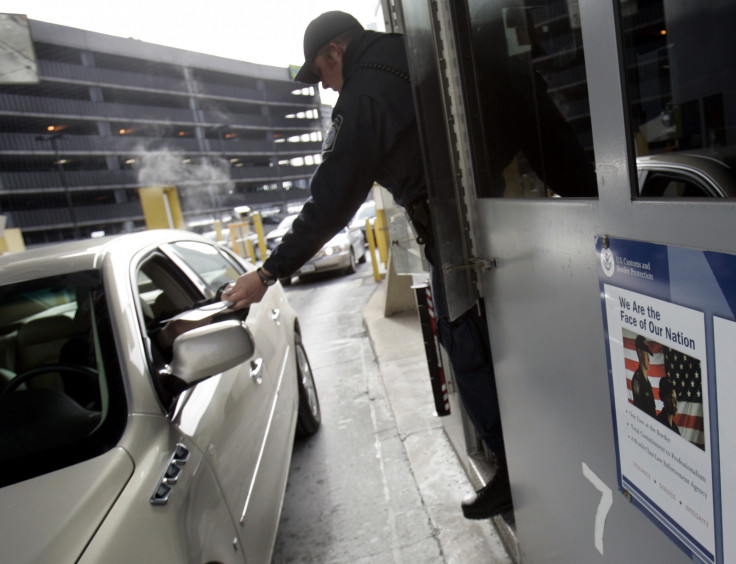 "They told me I was being denied entry for administrative reasons. According to the agent, my travelling to the United States for the purpose of protesting didn't constitute a valid reason to cross," Decunha said.
"It's concerning to see that at border crossings you're being screened for what your political beliefs are. It felt like if we had been pro-Trump, we would have absolutely been allowed entry."
US Customs and Border Protection said it could not discuss individual cases, citing privacy reasons.
"We recognize that there is an important balance to strike between securing our borders while facilitating the high volume of legitimate trade and travel that crosses our borders every day, and we strive to achieve that balance and show the world that the United States is a welcoming nation," it said in an email to the Guardian.
The agency added more than one million individuals are admitted to the US on a daily basis. An average of 600 people a day – less than a tenth of 1% of those admitted – are denied entry for a varied list of reasons, such as national security.