An estimated 20,000-100,000 women and men marched in London on Saturday (21 January 2017) in a colourful and lively protest, with slogans proclaiming: "Pussy grabs back", "Nasty Women" and "Grab them by their patriarchy".
The Women's March in the British capital was one of 673 sister events organised throughout the world the day after Donald Trump was sworn in as 45th president of the US.
The election of a man who boasted about committing sexual assaults triggered a worldwide response from people concerned about the future of women's rights and social justice, in their country and elsewhere.
Speaking to IBTimes UK, Women's Equality Party leader Sophie Walker said: "We reject absolutely the hate and the division that Donald Trump layed out in his approach to politics. We're also marching to reject the rise in xenophobia in our country.
"The US is one of the biggest exporters of ideas and he's normalizing racism, sexism and misogyny. We are marching today to say we are for equality for everyone."
English artist Grayson Perry CBE also attended the march, walking alongside the Women's Equality banner although he told IBTimes UK that he was not affiliated with any political party. He said that Trump's campaign slogan should have been to "make men great again, it was a very macho campaign. We are marching today for women's equality and it spreads out to all sort of equality for people.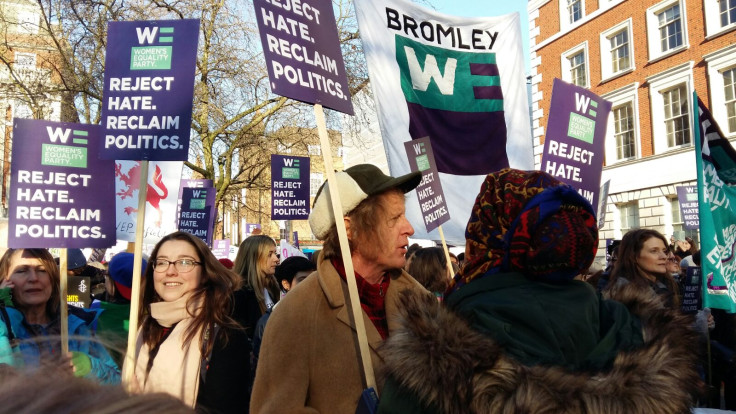 "(Trump's) biggest danger is the symbolism he stands for, the kind of permission he gives to people to feel that his kind of attitude is OK, which it isn't. He's not done men any favours."
In London, the march began in front of the US Embassy at 24 Grosvenor Square with a short series of speeches presented by actress Rebecca Hall. The speeches were themed around the idea of creating a space to allow different voices to be heard, a core message of the march.
Organisers also wanted to align the march in light of the feminist movement of the past, and Sekela Ngamilo, a young student, read an excerpt from the Freedom or Death speech from the suffragette movement founder Emmeline Pankhurst.
Demonstrators set off towards Trafalgar Square, where a rally will be held from 2pm to 3.30pm.
The speakers expected at the rally include politicians Yvette Cooper and Caroline Russell, comedians Sajeela Kershi and Sara Pascoe, and activists Natasha Walter of Women for Refugee Women and Lady Phyll Opoku-Gyimah, the co-founder, trustee and executive of Black Pride, among others. TV presenter and Women's Equality Party co-founder Sandi Toksvig will act as the MC for the rally.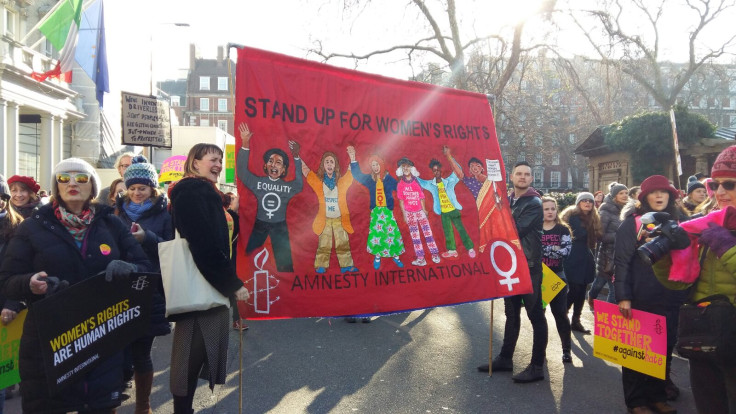 The day's main event, the Women's March on Washington, DC, pledges to protect fundamental human rights and safeguard "freedoms threatened by recent political events".
The message of the organisers is one of unity. They stated: "We will march, wherever we march, for the protection of our fundamental rights and for the safeguarding of freedoms threatened by recent political events. We unite and stand together for the dignity and equality of all peoples, for the safety and health of our planet and for the strength of our vibrant and diverse communities."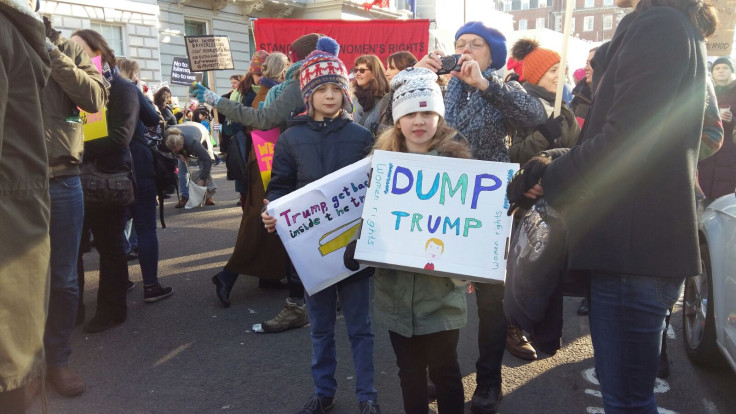 The unexpected size of the march in London led to major roads in central London being closed down. Access to some Tube stations along the march route has also been restricted.