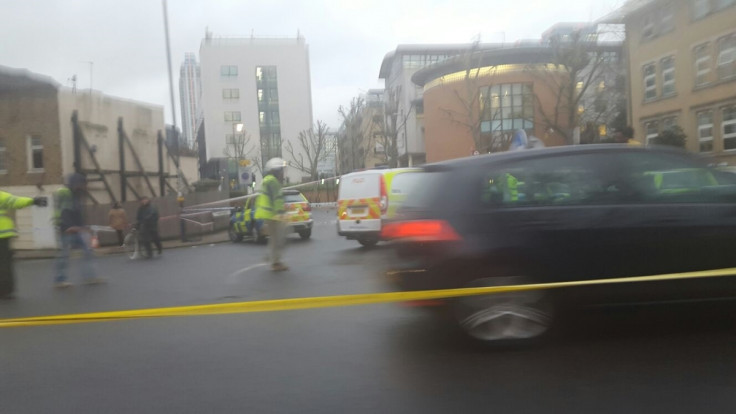 Residents living close to where a blacked-out BMW flipped over near Canary Wharf killing a man and a woman have questioned why the driver was speeding along Marsh Wall.
Metropolitan Police officers cordoned off the road after the incident, which happened at about 5.15am on 22 January, at the Manchester Road junction. A a man in his twenties who was also in the black BMW was air lifted to hospital with non-serious arm injuries.
Roads in the area have since reopened as police continue to investigate how the BMW 5-Series came to overturn and a Met Police spokesman said it was not yet clear if another vehicle was involved in the accident.
Speaking to IBTimes UK, residents have described the scene shortly after the crash and questioned why the driver of the car lost control. One man who identified himself only as Joe was in bed with his girlfriend at her flat along Manchester Road when she woke to the blaring sirens.
"There were loads of police and at least two ambulances," the 31-year-old said. "I could not see the car from the kitchen window but it looked bad because of all the flashing lights. I didn't see any other cars so it must have been an accident.
"What I don't know is why was he speeding? At five in the morning? It's not like there is much traffic on the road at that time. If you want my personal opinion, it sounds a bit dodgy. A blacked-out BMW speeding at five o'clock in the morning. It was pitch black still outside. It's sad. It seems like such a waste."
Jane Moores lives in the same block of flats and was forced to change her way into work as a result of the road closures put in place. She was surprised the crash happened near to a roundabout. "I did not know there had been a crash until the morning when my bus was diverted. What I don't understand is how the car crashed where it did. The roads are not dangerous and it's easy to see the roundabout."
Another resident said only that that the driver of the BMW may have picked up speed along Marsh Road because the it dips before it gets to the roundabout.