A shotgun robber who raided a bank in Henley has had his jail term slashed after claiming in court that a brain tumour made him do it.
Trevor Hayes appealed against his indeterminate sentence for the robbery in which he burst into the bank wearing a balaclava and brandishing a sawn-off shotgun at a terrified customer.
He ordered staff at the Barclay's branch to fill up bags with cash while he held the gun to the head of hostage Benjamin Pullen.
He fled the scene in a stolen van with £34,000 from the heist.
The raid in 2011 was the climax of three-month crime spree during which Hayes held up a post office and also threatened two motorists with the weapon.
Police branded him a "ruthless, violent and dangerous individual".
DCI Joe Kidman, of Thames Valley Police, said: "Trevor Hayes portrayed himself as a harmless and loveable rogue, consistently denying that he was capable of violence.
"These convictions for four incidents in which he has threatened strangers with a shotgun in order to steal from them show that he is a ruthless, violent, and dangerous individual."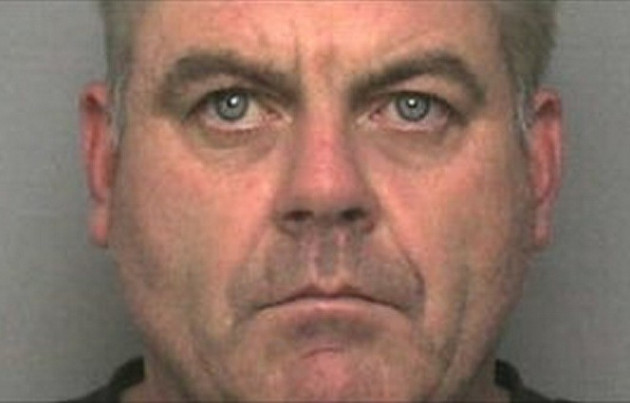 But Hayes convinced appeal court judges that a tumour was responsible for his actions. His lawyer said he had a brain tumour on the frontal lobes of his brain at the time of the offences.
It radically altered his behaviour, causing him to change from petty thief to violent armed robber, the judges heard. The court was told that Hayes' tumour was only discovered after he had been imprisoned. The tumour had been removed. That meant he no longer posed a threat to the public, said his lawyer.
Appeal judges Lord Justice Davis, Mr Justice King and Mr Justice Parker called the case highly unusual but were convinced by the argument, citing a "direct link" between the cancer and the crime spree.
Hayes was granted a new reduced sentence of 11 years with a set release date. They refused to shorten the sentence by more because Hayes knew what he was doing was wrong, they said.
The cancer in the brain's frontal lobes regulates "soft intelligence," such as the ability to see right from wrong.